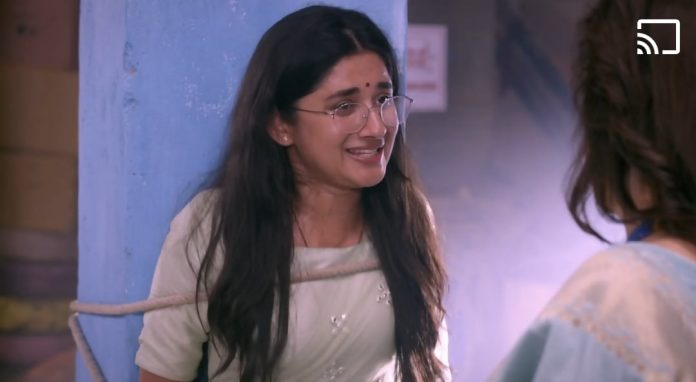 Guddan Tumse Na Ho Payega 19th December 2020 Written Update on TellyExpress.com
Episode starts with Guddan asking Aarav to rescue her mother and is crying that her mother will be fine now. Niya pushes a cart loaded with bolder and rods coming out of it towards Guddan so that she dies. Niya leaves from there and Agastya reaches the spot and notices the car and he immediately comes in front of it and tries to stop it but its too heavy to stop and he asks Aarav to release CHoti as soon as possible because after that it will be impossible for him to hold on to it for a longer period of time and she is too shocked to react to see the cart coming towards her.
Agastya is trying hard to hold it while Aarav releases Guddan and takes her away. As soon as he takes her to the side Agastya releases his hold from it and unfortunately gets hit by it in a bad manner and gets injured. Choti and Aarav get shocked to see this and they immediately try to rescue Agastya from the heap of boulders and rods and somehow they get him out of it but he is already unconscious and badly injured by the boulders and bleeding badly.
They took him to a hospital immediately to get him treated. They came to a city hospital and got him admitted and the doctors immediately took inside the OT and started the proceedings as usual. They are doing their work while Choti says to her brother Aarav that I am so scared about Agastya and I hope nothing happens to him because I love him so much to let go off him like this.
I can not live without him and she recalls all the moments about Agastya and how he promised her always that he will be with her in every situation of life and can give away his life also to protect her and their unborn child. She is feeling helpless and is praying that Agastya recovers soon. Her mother comes and assures her that nothing will happen to him and he will be alright but she just needs to be positive and hopeful about the situation.
She started to cough suddenly and a fellow nurse took her inside to give her the basic needed treatment. Choti asks her mother to get herself treated while the family members come together and asks Choti about Agastya. She told them that he is taken inside and the doctor treating him told me that he is critical and they are trying their best.
A surgeon comes out and says to them that so much blood loss happened and if you want to save your patient then we need immediate blood infusion that is only possible if we get O negative blood cause his blood group is very rare. Aarushi says my mother is O negative and she will donate blood.
After some time the doctor told them the tests reports are positive and they can take her blood for transmission. Sona comes and informs that Pushpa is nowhere to be seen and time is running out. Choti Guddan goes to find her out and gets her near a temple in the hospital. She asks her to come along but she denies saying I won't save him to lose him forever.
Finally she says that I will save him only if you agreed to go away from his life forever leaving your marital signs here. Choti can not agree to this and she requests her not to do this. Pushpa sticks to her words and says my opinion will not change at all.
Click to read: