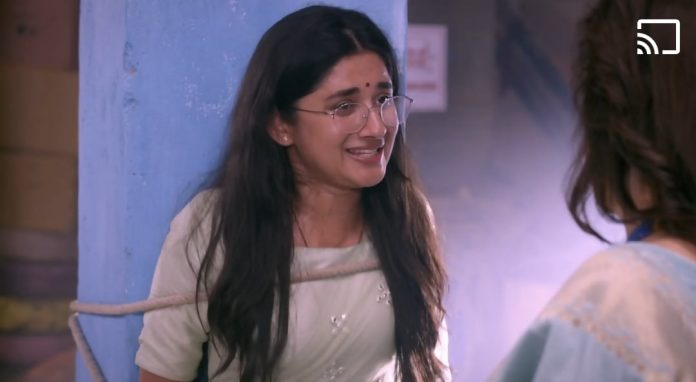 Guddan Tumse Na Ho Payega 21st December 2020 Written Update on TellyExpress.com
Episode begins with guddan requesting her mother-in-law to go and donate blood for Agastya so that he can recover because we are running out of time. Pushpa says to her I will not change my decision at any cost so you have to decide what you want. Guddan cries and requests not too you ask for something like this because she loves Agastya so much and he also loves her. In such a situation,we both will not be able to leave without each other so please don't separate us. However when she is leading to Pushpa her mother comes there and says to Choti, just gives her what she is asking for.
Right now her biological son Agastya is fighting within life and death situation and this woman is so cheap and wild that she is trying to take advantage of such a time just to fulfil her ego and hatred. You do your job of saving your husband. You need to save the person with whom you got married, not the marital signs. Choti is still not convinced and she is not willing to give away her nupital chain to Pushpa. She medicals all the moments of her with Agastya and at the end she agrees to give away her chain. With much difficulty she takes out the chain from her neck and is going to give it to Pushpa.
However at the end moment she stops and says to Pushpa, I will give you my Nobita chain and will also go away from my husband's life forever but I have one condition as well. She says to Pushpa that once the operation is done and Agastya will be fine, you will let me see him at least once. Pushpa says you are the love of my son's life. At least this much I can do for you. Choti finally gives her the nupital chain while her mother is determined but also pained to see her daughter vulnerable and helpless like this. Pushpa goes to do blood donation for Agastya so that he can recover.
Guddan says to her daughter that we will leave for home from here now. Choti says I can not go away leaving my husband in this state. However, she says why these things are happening with me ? All I want is to be happy with the person I love. Senior Guddan tries to make her understands that if you truly love him and he also loves you back in equal format then you will have your happy ending eventually. After sometime Agastya regains consciousness, as soon as he gets up and was able to speak. The first thing he is asking for is his wife Guddan.
Pushpa somehow manages the situation for that time and asks him to take some rest. Malini's mother also closes the window witjh curtains through which Choti is watching Agastya. Finally guddan and Aarav tried to make chhoti understand that she is just harming her self respect and nothing else. At the end of the day it was Choti guddan who has to go through a lot of things in life. Senior Guddan says to Choti that you can definitely have agastya if your love for him is real and true. He will definitely come to you no matter who ever is stopping him.
On the other hand, Agastya is losing her temperaments while the people of the bride's family comes to take away. Agastya is trying to locate his wife but she is not reachable. Agastya gets discharged from the hospital and he is back in home thinking that good and but but still she is arranging some surprises for him that is why she is being silent. However Agastya realises that she is not in the house and asks all for the reason specially his mother too.
Click to read: