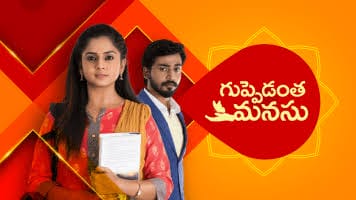 Guppedantha Manasu 15th November 2022 Written Update on TellyExpress.com
The episode starts with Gautham saying to Mahindra that it's not good to trouble Rishi for a long time. Mahindra asks if he is giving suggestions to him. Gautham says he is not. Mahindra asks if he is feeling scared that his friendship with Rishi may be damaged if Rishi finds out they are in his place. Gautham says I didn't think in that way but I have that fear too but the main thing is I'm unable to see Rishi's pain.
Mahindra says he is having more pain than them and questions why can't they understand his pain. Jagathi asks why he is talking in this way. Mahindra says let me give my explanation so I may feel lite. He says he left home to teach a lesson to Devayani and get Vasudhara and Rishi to become closer and it's going to happen soon so trust me Jagathi. Jagathi asks what if his plan goes wrong. Mahindra says this plan won't go awry and we need to stay away from Rishi for some more time to settle the situation.
Jagathi controls her tears. Mahindra says Vasudhara is supporting Rishi like his shadow and not letting him feel our absence and in this way, we can see Vasudhara changed her opinions and she will save Rishi from Devayani. Jagathi says we gave the opportunity to Devayani and what if she uses it against us? Mahindra says Devayani is witnessing the bond between Rishi and Vasudhara and she will understand very soon that she can't separate Rishi and Vasudhara. He says Vasudhara is adamant to make Rishi call you mom but I feel Vasudhara's thought process is changed too seeing Rishi's pain so it's good if we wait for some more days.
Rishi talks with staff about college work. One of the staff asks about Mahindra. Rishi says he will come soon. Vasudhara sees this and thinks what will happen when Mahindra doesn't come back.
Vasudhara thinks to herself where is Jagathi? Vasudhara gets a call from the interview coordinator and says they will come for the interview. Vasudhara says she will not give the interview today and asks them to postpone it. The coordinator asks her to tell when she will give the interview. Vasudhara says she will tell them later.
Phaneendra asks Devayani what did she do? Devayani says she didn't do anything and says Mahindra and Jagathi left on their own. Phaneendra says he was talking about the coffee. Phaneendra later questions Devayani about what she was talking about? Phaneendra asks Devayani to tell the truth. Devayani has tears in her eyes and says she will only blame her all the time. Devayani asks what can she say to Jagathi as she will go to college and come home late. Devayani leaves from there. Phaneendra gets a headache with Devayani. Phaneendra asks Dharani for a coffee.
Vasudhara talks to Gautham about Mahindra and Jagathi. Gautham says Mahindra and Jagathi will not return until they take a step and fix their marriage. Vasudhara asks Gautham how can he be so sure. Gautham says he felt like that. Vasudhara asks Gautham where are Mahindra and Jagathi? Gautham asks how can he know where they are? Vasudhara asks Gautham to tell her if he knows where is Mahindra. Gautham says he doesn't know. Gautham asks Vasudhara not to ask like this infront of Rishi and says Rishi will choke him if he misunderstands him.
Episode ends.