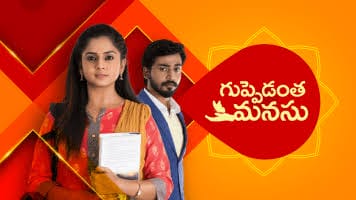 Guppedantha Manasu 21st January 2023 Written Update on TellyExpress.com
The episode starts with Phaneedra saying to Devayani to leave the matter. Devayani says we have to learn a lesson from it. She asks Mahindra who told him that Rishi is at the college guest house. Mahindra plays Vasudhara's voice message. Devayani says Jagathi and Vasudhara are ruining their lives and asks Phaneedra to tell her the solution. Mahindra says Rishi has to come out of his pain. Devayani says you guys didn't support Sakshi and Rishi's marriage and everyone is deceiving Rishi and now Vasudhara through this message said on your face that you guys left Rishi. That time Jagathi receives a call. Mahindra asks whose call it's. Jagathi says Rishi. She attends the call. Rishi asks her to come to the college. Jagathi agrees and disconnects the call. Mahindra asks what happened. Jagathi reveals to them what Rishi said. She says she will go alone as Rishi called her only. Mahindra agrees and sends her.
Chakra pani cuts fruits. Sumithra feels surprised seeing his care. He gives her fruits and asks her to eat. He receives Rajiv's call. He attends the call and vents his frustration on Rajiv. Rajiv says he can't harm him and asks how's Sumithra. Chakrapani warns him to not come infront of him. Rajiv says your grandson will be an orphan if I die. Chakrapani says you got a life because of my grandson. Rajiv asks him to forgive him. Chakrapani says it will never happen and you might be the killer of my daughter too. Rajiv requests him to give him Vasudhara. Chakrapani warns to kill him if he eyes Vasudhara. Rajiv disconnects the call and thinks he won't get scared of Chakrapani's warning and will get married to Vasudhara.
Rishi looks at the carriage. Rishi recalls how he congratulated Pushpa as she got a job. Pushpa gives a carriage to Rishi asking him to give it to Vasudhara. Pushpa says to Rishi that Vasudhara is staying with them. Rishi asks Pushpa if she saw Vasudhara's husband. Pushpa says she didn't and comments on Vasudhara's husband as lucky. Rishi thinks he is unlucky as he is not Vasudhara's husband. Rishi gets a call saying he is a lucky customer. Jagathi comes to talk to Rishi. Rishi says to Jagathi that his program got canceled. Rishi gives a pen drive to Jagathi and asks Jagathi to give to Vasudhara. Rishi also gives the keys to Gautham's flat and the carriage that Pushpa gave and asks Jagathi to give it to Vasudhara. Jagathi asks Rishi if he doesn't hate Vasudhara. Rishi says there is no use hating others. Jagathi thinks Rishi has a really good heart as he doesn't hate Vasudhara even now.
Vasudhara recalls what happened and thinks how can she explain if no one is giving any chance to explain to them. Jagathi comes to meet Vasudhara. Vasudhara asks Jagathi why is she looking at her like that? Jagathi satirically comments on Vasudhara. Vasudhara tries to explain to Jagathi but Jagathi says she doesn't want to talk to her. Jagathi asks Vasudhara to say anything if she has to say as the project head then she will listen to her. Jagathi gives the flat keys to Vasudhara saying Rishi gave the flat keys as she is the project head. Vasudhara says to Jagathi that Rishi cares a lot about her. Jagathi says if Pushpa is in her position then he would have done the same. Jagathi wishes Vasudhara satirically and leaves from there.
Devayani worries that Rishi and Vasudhara might get back together. Devayani calls Rajiv. Devayani disrespectfully talks to Rajiv as he didn't do the work that he gave her.
Episode ends.