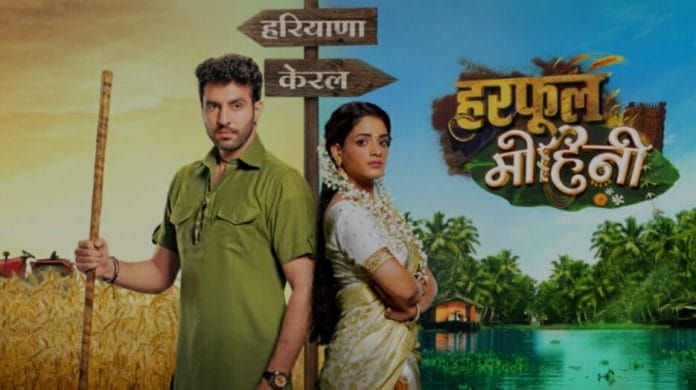 Harphoul Mohini 3rd October 2022 Written Update on TellyExpress.com
Episode begins with host explains the rules of the kabadi match. Villagers cheers for Harphoul. They says that SP will lose. SP tells Mohini that he came with this kabadi match to unite the Villagers but they are against him because he did not born in this village. He says that they made this match Haryana Vs South Indian. Mohini nods at him. He asks her that if he can expect support from her because she is South Indian and she has her own identity. Harphoul sees SP talking to Mohini. Kabadi match begins. Harphoul goes from his team. Mohini cheers for Harphoul. Maai smiles seeing that. On the other hand, Balwant leaves from the police station.
Host asks that if SP's team can defend Harphoul or not. Santok motivates Harphoul. He throws the stick without realising it. Mohini notices that. She tells Maai that Santok can walk without support soon. Shalini thinks that Balwant won't let her stay happy even if Santok becomes fine. She thinks that she can't go against Balwant because of a secret. Maai tells Shalini that Santok can become fine. Harphoul gets hit when getting up. He falls on his side and loses his consciousness. His team asks him to get up. Harphoul's family gets worried for Harphoul.
Mohini sprinkles water on Harphoul's face. Harphoul regains his consciousness. She asks him that if he can hear her. He tells her that he is fine. She tells him that he is champion and for champion this injury is nothing. She tells him that he has to win. She asks him that if he can play. He gets up. She tells him that he can take rest if he don't feel good then. He tells her that he is champion and he can't back off. Harphoul wins point for his team. Villagers claps for Harphoul. SP's team wins point. Harphoul notices that SP team jersey. He learns that Mohini bought his jersey with SP help. He goes to Mohini and tears the jersey in front of her. He scolds her for begging someone else to gift him and moves from there. Host announces that Harphoul tore his jersey.
Balwant tells himself that today Harphoul will win the match, but he will lose in love. Maai asks Mohini that why Harphoul reacted like that. Mohini tells her that Harphoul got to know that she took SP help to buy jersey for Harphoul. Maai asks her to not think about it.
Harphoul wins points for his team. Villagers cheers for Harphoul. SP tells his team that they have to win to answer this Villagers. Mohini takes the mic from host. She explains the difference between Malayali and Madarasi. She asks them that won't they feel bad if she call them as Punjabi. She asks players to play with team spirit. She says that they are Indians at end.
Host announces break time. Mohini asks Harphoul to save his energy. She gives snack to him. He refuses to eat it and leaves from there. SP notices the snack. He tells her that he misses his mother's hand made food. She gives the snack to him. Harphoul sees that. Meanwhile, Balwant says that game started with mud and the game will end with mud. He adds that Harphoul and Mohini's relationship will end.
Episode ends.
Click to read