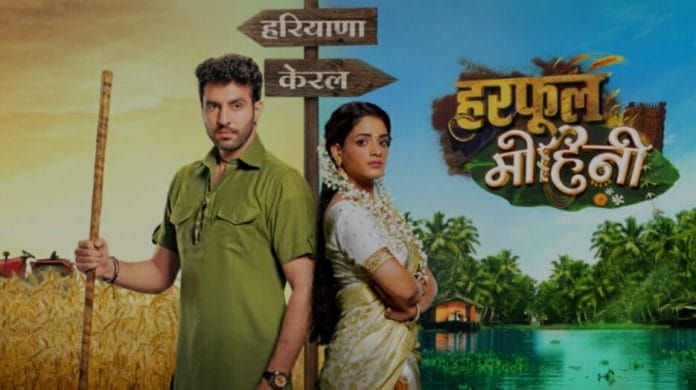 Harphoul Mohini 4th October 2022 Written Update on TellyExpress.com
Episode begins with Harphoul goes from his team. He gains points for his team. Host says that SP team has many players comparing to Harphoul's team. Harphoul's friend tells Harphoul just they left in their team. He wonders that what SP ate during break time. He goes from his team and gets out. Harphoul asks Mohini that what she gave to SP. Mohini tells him that she gave her handmade snack which he refused to eat. He eats the remaining snack.
She tells him that it's not North Indian vs South Indian match. She says that she will support Harphoul even if it was North Indian vs South Indian match. She says that she don't have any reason to support other team. She says that she is supporting her husband and she will do that always. She tells him that he has all the champion qualities but he need to control his anger. She asks him to give his best because winning and losing are not matter for her. She says that he is winner for her already. He leaves from there.
Maai tells Mohini that she can understand that the latter gets upset when Villagers tag her as Madrasi. Mohini tells her that being Malayali is her identity, but now she is Harphoul's wife too. She thinks that she wants Harphoul to win. She realises that she choosed Harphoul over her identity. She thinks that this is the third sign of love and smiles.
Host says that SP and Harphoul team have 6 points. Harphoul goes from his team. SP team catches Harphoul. Harphoul tries to touch the line. He sees Mohini cheering for him. He recalls Mohini's words. He recalls that how Maai said that sometimes it's necessary to lose in love. He loses the match deliberately. SP team wins the match. Harphoul smiles. He thinks that today he will confess his love to Mohini for sure. Santok asks Maai that she also think that Harphoul lost the match deliberately for Mohini. Maai tells him that Harphoul understood that what is love.
Mohini tells Harphoul that she have something to tell him. Harphoul tells her that he also have something to tell her. She is about to say i love you to him. But Balwant throws stick in between them. He asks Harphoul that if the latter won't welcome him. He asks him that if the latter is not happy seeing him. He says that he learnt about kabadi match so he came to play. He tells Villagers that his enemies tried a lot to put him behind the bars but Villagers prayers saved him. Maai prays to God for Harphoul and Mohini.
Host welcomes Balwant. He announces that Balwant will give trophy to the winning team. SP notices Bhai ji. He realises that Bhai ji helped Balwant. Balwant congratulates SP for winning the match. He gives trophy to SP. He thinks that it's Harphoul and Mohini's turn.
Episode ends.
Precap – Balwant tells Mohini that Harphoul married her to save his land.
Episode begins with host explains the rules of the kabadi match. Villagers cheers for Harphoul. They says that SP will lose. SP tells Mohini that he came with this kabadi match to unite the Villagers but they are against him because he did not born in this village. He says that they made this match Haryana Vs South Indian. Mohini nods at him. He asks her that if he can expect support from her because she is South Indian and she has her own identity. Harphoul sees SP talking to Mohini. Kabadi match begins. Harphoul goes from his team. Mohini cheers for Harphoul. Maai smiles seeing that. On the other hand, Balwant leaves from the police station.

Host asks that if SP's team can defend Harphoul or not. Santok motivates Harphoul. He throws the stick without realising it. Mohini notices that. She tells Maai that Santok can walk without support soon. Shalini thinks that Balwant won't let her stay happy even if Santok becomes fine. She thinks that she can't go against Balwant because of a secret. Maai tells Shalini that Santok can become fine. Harphoul gets hit when getting up. He falls on his side and loses his consciousness. His team asks him to get up. Harphoul's family gets worried for Harphoul.

Mohini sprinkles water on Harphoul's face. Harphoul regains his consciousness. She asks him that if he can hear her. He tells her that he is fine. She tells him that he is champion and for champion this injury is nothing. She tells him that he has to win. She asks him that if he can play. He gets up. She tells him that he can take rest if he don't feel good then. He tells her that he is champion and he can't back off. Harphoul wins point for his team. Villagers claps for Harphoul. SP's team wins point. Harphoul notices that SP team jersey. He learns that Mohini bought his jersey with SP help. He goes to Mohini and tears the jersey in front of her. He scolds her for begging someone else to gift him and moves from there. Host announces that Harphoul tore his jersey.
Click to read