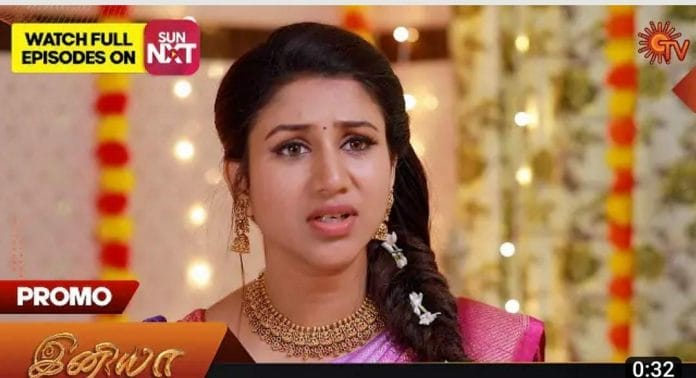 Iniya Upcoming Story, Spoilers, Latest Gossip, Future Story, Latest News and Upcoming Twist, on TellyExpress.com
Sun TV newly launched show " Iniya" is about An Arrogant cop Vickram married an open-minded. Iniya to teach her a hard lesson, while Iniya's forced to tie the knot out of love for her sister and their mother's dying wish. Shanmugam stands firm against Vickram-Iniya marriage
In the previous episode we saw; Iniya noticed Dhanam advising Meena to be close with Vickram. Iniya stopped Meena from giving tea to Vickram reasoning he like coffee not tea. Both ended up arguing each other. Iniya gave coffee to Vickram. He wad surprised to see Iniya there. He appreciated the taste of the coffee.
Later, villagers were gathered for a panchayat. They condemn the widow for fell in love. Iniya got furious when villagers accusing a widow for loving a person. They asked Nallashivam to give a proper punishment to that widow.
He demanded that widow to fall on all men's feet and shave her head. Iniya got furious hearing it. She raised her voice against them and Threatens to complaint in police station. Dhanam will try to provoke Nallashivam against Iniya. But Vickram supported Iniya there .
In the upcoming episode viewers will see; Nallashivam will complaint to Vickram that he is changed. Vickram will reveal to him that he was acting.
Later, Iniya will mock at Amudha for showed their poor acting. She will challenge them to plan something better. She will mock at her and leaves.
What will happen next? Will Iniya fall in love with Vickram?
When Vickram change his attitude?
Upcoming episode will answer to our all questions stay tune with our space for more updates