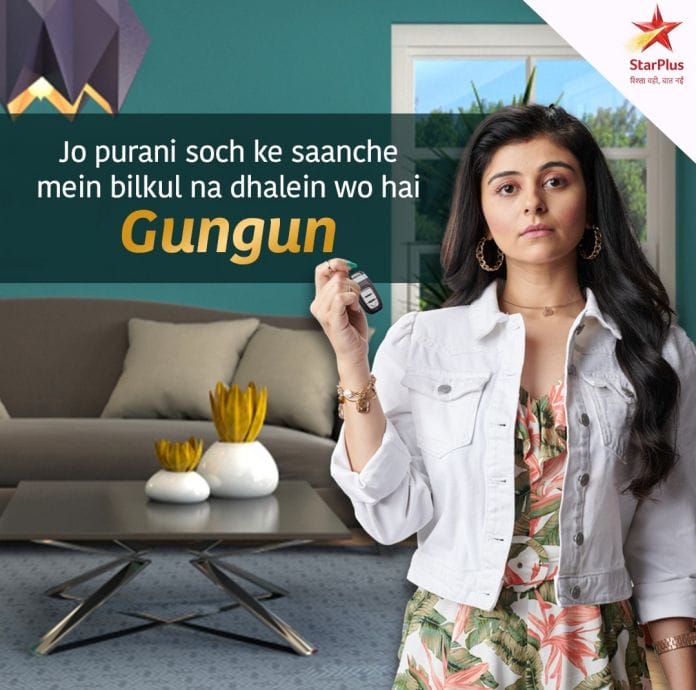 Kabhi Kabhie Ittefaq Sey 11th May 2022 Written Update on TellyExpress.com
The episode starts with Maya says Gungun this house will never give her happiness. Gungun tells Maya even she lived in U.S. and she was never happy. Maya asks the reason behind to agree to it. Gungun recalls Ranvijay's threat and says that she lost her father dont she think this reason is not enough. Maya tells Gungun that she invited guest for Ridesh's thirteenth day ritual. If she wants to invite her friends Ragini Ranvijay. Gungun gets angry hearing Ranvijay so asks her to not to take his name.
Maya tells that he is her boyfriend that's what her social media status is telling with all the photos she posted. Gungun gets furious and says Ranvijay is not her boyfriend. Maya says then she must've broken up with him. Gungun asks Maya what else Akriti told her about the vermilion which she wore on her forehead. Maya says that Akriti asked her whether her husband accompanying them to USA. She then asks Maya who is her husband and she dont have problem if she married to Ranvijay. Gungun recalls everything that happened and asks Maya to stop imagining about her life.
In Kulshreshth's house Akriti says to Anubhav that tomorrow is funeral ceremony of Ridesh for which Maya invited her. Anubhav asks her to go alone but Akriti refuses and says that Charu was upset with him because he went to meet Gungun alone but he wont get upset with him now because she is accompanying him. Anubhav says that he said no because he dont like Maya. Akriti says that Maya is weird but they have to tolerate her for few hours only after that she and Gungun will leave for USA so pleads him to accompany her or else the society will mock her. Anubhav agrees.
Charu stops Anubhav and tells him that he wanted to attend Ridesh's funeral ceremony but he is sure the women won't let him go because Maya is there but asks him to take him with him..Anubhav agrees. Golu and Yug comes down talking to themselves about Gungun's decision to be with Maya who she hates the most and worries about her well being. Yug asks Anubhav is Gungun really going to USA. Anubhav says that he knows as much as they know only. Golu asks don't he going to stop Gungun. Anubhav says that she is nothing to him so there it's not duty to stop her. Golu tells that they know everything.
Yug asks Anubhav will he be happy if Gungun goes to USA. Anubhav says that he dont know but whatever happens he will take that as a God's wish. Yug asks Anubhav that will Gungun be happy. Anubhav says she is that's why she decides to leave then leaves the house. Golu and Yug gets worried. Anubhav collides with Gungun's car. She comes out of her car. Anubhav notices the Visa in her hand so asks is she truly decides to go to USA. Gungun jokes and says yes. She also says that her existence doesn't matter to anyone here.
Anubhav says its matter to him and it will affect him. Gungun gets shocked hearing Anubhav's confession. Gungun changes the topic by asking Anubhav to tell Akriti to not to go around and talk about her marriage life and husband. Anubhav asks Gungun to tell this Akriti by herself. Gungun says that she dont like to talk to her so she is telling him because he is her husband. Anubhav tells that Akriti won't listen to him. Gungun asks why and says that she is his wife. Anubhav says to Gungun that for him she is his wife. Gungun gets shocked and warns Anubhav to not to insult her like this. Anubhav says that she may carry this identity of her's proudly in the future.
Gungun says nothing such will happen ever. Anubhav gets hurt. He asks Gungun to meet him in the evening but Gungun refuses saying she has so much work. Anubhav asks her to call him if she changed her decision and he will expect her call and leaves the place. Gungun looks at Anubhav's retreating back and asks why he is making it more difficult for her to leave even its hard for her to leave him but she has to do it for everyone's well being.
Neeti Kushi and Chavi goes to Akriti's room and reminds her about her plan to take them all out for a dinner. Akriti apologises to them for forgetting and says Anubhav is so busy so she can't able to plan anything. Neeti asks her to think about them. Akriti decides to take them to a dinner. She also decides to ask Anubhav to join them after the work hours as per Kushi's work suggestion. Chavi Kushi Neeti and Akriti goes to Charu and asks his permission and the latter permit them making everyone happy. Sunanda refuses to go with them saying she dont know how to use fork and knife to which Akriti says that they all will have food using their hand makes Sunanda happy and she praises Akriti for being thoughtful.
Anubhav gets a call from Gungun who tells that she will meet him for the last time making him happy. Anubhav decides to book a table on fall tree restaurant and the other side Akriti also decides to go there with the Kulshreshth's women. Akriti call Anubhav and inform him about her plans but Anubhav says that he is busy so he can't able to join them. Anubhav leaves the institute making everyone surprised by his odd behavior.
Gungun wonders which dress she should wear. Maya comes there and asks where is she going. Gungun warns her to stay in her limit and not to question her about her personal life. Maya scolds her and asks her if she behaves with her this way then how she will be happy with her in USA. Gungun says that she is going with her USA for her personal reasons. She also taunts Maya for breaking Ridesh's heart when Maya says that she is also get hurt by the loss of Ridesh. Maya asks Gungun to invite her friends for Ridesh's funeral ceremony so that she can able to meet them for one last time and leaves the room.
Precap: Anubhav asks Gungun will they ever meet again. Gungun says if there is anything such happen then she will let him know. Anubhav asks about Gungun's flight timing so that he can plan his day as per it. Gungun asks Anubhav to leave this and leave the restaurant. Anubhav follows her. Akriti and Kulshreshth's women comes to the restaurant. Anubhav asks where is she going. Gungun says that she dont like the way he is talking to her and says he is for Akriti but Anubhav says he consider her as his wife. Gungun asks him to shut up and asks to not to say such things again. Akriti stops before entering the restaurant and looks on.
Click to read