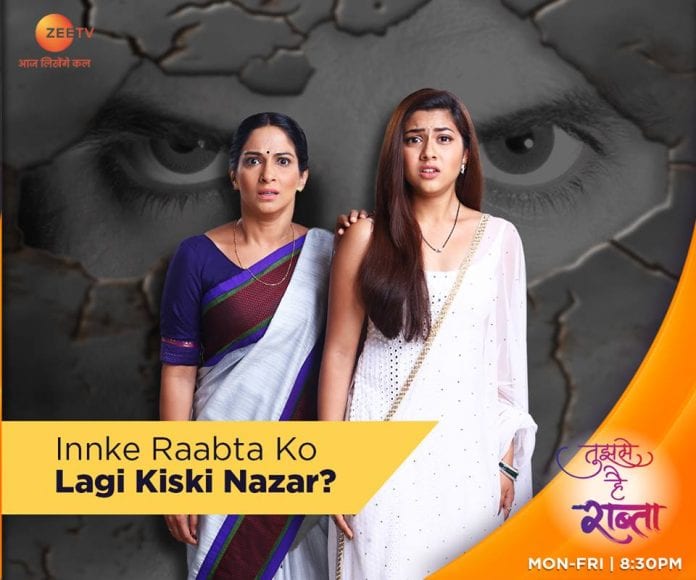 Situation to turn in favour of Kalyani and Malhar soon in the Zee TV show Tujhse Hai Raabta. As we know the story of the show is nowadays revolving around the marriage preparations of Kalyani and Atharva. However Kalyani doesn't want to get married to Atharva as she loves Malhar and Moksh. We had seen how Atharva kidnapped Anupriya and now he is blackmailing Kalyani on her name.
The regular audiences of the show had seen last night that creates ruckus in the Deshmukh house by calling the tattoo artist. On the other hand Atul told Kalyani that giving her custody to Anupriya is his biggest blunder. To his dismay Kalyani reverted back that she will not approve any foul language against her mother. Sampada on the other hand confronts Atharva that why he is marrying Kalyani and leaving her alone.
Atul who is dread against Malhar ask sanpada to call court people and expose Malhar by showing his tattoo. However in the middle of all this happenings Kalyani finally revealed to Malhar that she is being blackmailed buy Atharva as he kidnapped Anupriya.
Later on, Malhar was able to find a tentative location where Anupriya may be kept as a captive. In tonight episode of Tujhse Hai Raabta the regular viewers of the show will see, Kalyani and Malhar entered a grave yard as from the police department Malhar got to know Anupriya can be kept here somehow in any coffin.
They will be searching for Anupriya when a car will stop nearby. Malhar and Kalyani will take shelter inside of a coffin to hide themselves from them and will share some cozy moments with each other. Who are these men?
Will they able to find Anupriya here at last? How will Malhar save Kalyani from this unwanted marriage?
To know more about this show and upcoming story keep watching this space.