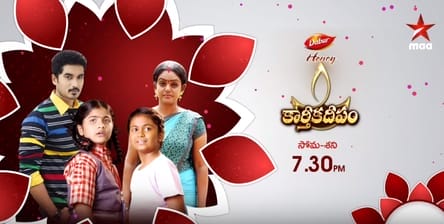 Karthika Deepam 20th December 2022 Written Update on TellyExpress.com
The episode starts with Charu seela asking Soundarya why did she call her. Soundarya says to Charu Seela she tried to call the phone number i.e. on the poster but it is the wrong no. Soundarya asks Charu Seela if she knows where is Sourya? Soundarya pleads with Charu Seela to help her if she knows where is Sourya. Charu Seela recalls that her driver is the one who dropped Sourya at their home.
Karthik sees Soundarya and feels emotional. Soundarya asks Charu Seela to find out by asking the driver. Charu Seela agrees and tells Soundarya to come tomorrow to the hospital. Soundarya agrees. Charu Seela asks Soundarya why does Sourya believes that her parents are alive? Soundarya tells what happened with Sourya to Charu Seela. Soundarya starts praising Deepa and says their fate is taking revenge on them. Soundarya feels the emotional thinking of Deepa. Charu Seela comforts Soundarya and asks Soundarya to come to the hospital tomorrow. Soundarya agrees and leaves from there.
Charu Seela asks Karthik if he saw Soundarya? Karthik says he saw Soundarya crying and says he is the one that made her cry. Charu Seela comforts Karthik and asks him to go to Deepa. Karthik agrees and leaves from there.
Chandramma asks Indrudu to eat the food. Indrudu thinks it is time for Sourya to leave them. Chandramma asks Indrudu not to think like that. Indrudu says anything can happen and says the truth will not hide for a long time. Chandramma reminds Indrudu what happened and says it is the fate for Sourya to be with them.
Sourya says to Indrudu and Chandramma that Charu Seela called her. Indrudu thinks why did Charu Seela call Sourya. Sourya says Charu Seela might have learned about her parents. Sourya says Charu Seela asked her to come alone. Indrudu says they will also come with her to see her parents. Sourya agrees. Sourya goes to get ready. Chandramma asks Indrudu if Charu Seela called Sourya to reunite with her parents. Indrudu says it is not to reunite with her parents and says it might be to reunite with Sourya's grandparents. Sourya, Indrudu, and Chandramma leave to Charu Seela's hospital.
Deepa blames Indrudu and Chandramma for keeping Sourya away from her. Deepa says to Karthik they should complaint to the police about these people. Karthik says she can do that later and tells her to have the medicine. Deepa asks Karthik how long she has to have this medicine. Karthik says this is a 6 month course.
Soundarya goes to meet Charu Seela in the hospital. Soundarya asks Charu Seela if she called Sourya to come alone. Charu Seela says yes. Sourya sees Soundarya and says to Indrudu and Chandramma that Charu Seela didn't call her to reunite with her parents and says Charu Seela called her to give her to Soundarya. Sourya asks Indrudu to leave as quickly as possible. Indrudu, Chandramma, and Sourya are about to leave but Soundarya stops them. Soundarya questions Indrudu where will they take Sourya now? Soundarya questions Indrudu on why did he lied that it is their house last time? Indrudu says they are doing it only because Sourya asked them to do it.
Soundarya says they should take them to the police. Sourya stops Soundarya and questions her why she didn't come that day and why did they leave for the US without her. Soundarya recalls what happened and says she was not in a condition to come at that time. Soundarya asks Sourya to come with her now. Sourya says she will not come to the place where Hima is. Soundarya tries to convince Sourya but Sourya still stands on her decision of not to return with Soundarya
Episode ends.
Precap – Karthik will say to Deepa that he saw Indrudu in a hotel and he tried to catch Indrudu but he failed.
Deepa says to Karthik she went to the hotel and saw Karthik giving money to Indrudu. Deepa questions Karthik on why is he deceiving her.