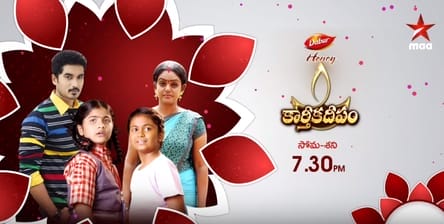 Karthika Deepam 20th September 2022 Written Update on TellyExpress.com
The episode starts with Karthik coming out holding his head in a hangover. Deepa comes there and asks if he slept well. Karthik says yes but when you left in the night. Deepa says you asked me to talk and in between, you slept. Deepa serves coffee to Karthik. Siva asks Deepa to leave saying Mounitha is coming. Deepa says she will leave after giving him coffee. She says she is readying tiffin too. She is about to give coffee to Karthik. Mounitha pushes away the coffee. Deepa sees that Mounitha came back with Anand. Karthik asks Mounitha who is the child? Mounitha says I told you right I'm going to bring our child then how you forgot.
Deepa says he regains his memory fully if he starts to remember the past. Mounitha asks how she return as she went somewhere for 2 days. Deepa says I have to plan and others can't plan on me to make me stay away from home. Karthik asks who planned it. Deepa says it's a long story and she tries to take Anand but Mounitha refuses. Anand starts crying loudly.
Deepa thinks Anand may make Karthik recall his past. Deepa asks Karthik to hold the child and says then the child will stop crying. Karthik takes the child hearing this. Anand stops crying just like Deepa said after coming to Karthik. Karthik asks Deepa how did she know? Deepa asks Karthik if he recalls anything after holding the child.
Mounitha thinks to herself if she made a mistake bringing the child here. Karthik gets some flashes. Mounitha says no need to think about them and he is your son that's why he knows your touch and you don't need those memories. Karthik agrees and shows his son to Deepa. Deepa feels bad. Karthik thanks Mounitha for bringing their son. Mounitha takes them inside.
Doctor comes to Deepa's house and asks why she called him urgently. Deepa gives him Karthik reports she stole from Mounitha's safe. He says he will show it to a specialist. He asks why she looks dull. Deepa tells him everything and how she misjudged that Karthik will remember seeing Anand but he didn't and now Karthik is fixed that Mounitha is his wife as he felt Anand is his son. Doctor asks her to observe Karthik keenly.
Later Deepa cuts her hand while thinking about her family. Karthik comes there and asks why she cut her hand and where she lost it. Deepa says it's a small one. She asks why he came. Karthik says he came to apologize to her for Mounitha's behavior. Deepa says it's fine and she asks him to sit and get him coffee. She thinks to make him recall his past. Deepa tries to remember his past to him by telling him that he is from Hyderabad. Karthik asks if he has parents. Deepa says you have parents and family. Mounitha asks Siva where is Karthik.
Siva says he is inside. Mounitha says no. Siva says he may go to meet Deepa. Deepa says this is not your real life and hopes you remember it. Karthik feels pain and falls unconscious. Mounitha gets shocked and she makes him gain consciousness sprinkling water on her face. Karthik asks what happened to him. Mounitha manages him by saying a lie and takes him with her. Mounitha thinks she has to go away with Karthik and their son otherwise Deepa will make him regain his past. Karthik asks what's their baby name. Mounitha says your son's name is Anand. Karthik says he feels like he knows this name.
Episode ends.
Precap – Mounitha will tell Deepa that Karthik won't regain his memory. Deepa says it's possible.