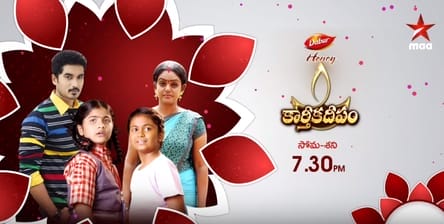 Karthika Deepam 22nd November 2022 Written Update on TellyExpress.com
The episode starts with Indrudu asking Sourya where did she go? Sourya says she went to the Xerox shop. Sourya shows the posters she made to Indrudu. Sourya says she doesn't have her parents photos so she made posters with her photos and says she gave his number. Sourya asks Indrudu to take her to stick these posters. Indrudu reminds Sourya that it is already evening so they will go tomorrow to stick the posters. Sourya agrees. Chandramma asks Indrudu what should they do about the posters? Indrudu says he doesn't know.
Karthik says to the doctor the surgery is a success. The patient will live. The doctor thanks Karthik and says he can live here in their guest house. Karthik says for now he will stay outside and think about it. The doctor agrees and gives him the money. Karthik thinks about what lie he should tell Mounitha so that she doesn't get suspicious.
Mounitha feels frustrated as she lost Karthik. Mounitha goes into Deepa's house looking for Karthik. Mounitha sees that Deepa is not in the house. Mounitha sees Sourya's photo with Indrudu and recalls Karthik asking Mounitha about the auto guy. Deepa comes and asks Mounitha why is she here? Mounitha asks Deepa if she found Sourya. Deepa asks Mounitha to give the photo. Deepa takes the photo from Mounitha.
Mounitha asks Karthik if she saw Sourya? Karthik asks Mounitha if she saw Sourya? Mounitha says she didn't see Sourya and she doesn't know about Sourya. Karthik questions Mounitha as just now she asked about Sourya. Mounitha makes up a reason and leaves from there. Karthik says to Deepa she shouldn't have allowed Mounitha to see the photo. Deepa says Mounitha came without telling her. Karthik asks her to take care and leaves from there.
Indrudu and Sourya stick posters to the wall. Indrudu thinks of exchanging the phone number with another so that no one will call him even if anyone called his number. After Indrudu and Sourya leave. Chandramma comes and blackens the poster with black paint. Chandramma apologises to Sourya and her mother in her heart.
Karthik sees Deepa in the bed. Karthik asks Deepa if she is not feeling well. Deepa says yes and says she is feeling tired. Deepa worries about Sourya. Karthik asks Deepa not to worry about Sourya. Deepa doesn't listen to him. Karthik asks Deepa to take some rest and leaves from there. Karthik thinks he has to be careful about Deepa's health.
Mounitha sees the house is locked and thinks of who locked the house? Mounitha recalls what happened with Soundarya. Durga greets Mounitha from the inside. Mounitha asks Durga to open the door. Durga says he will open the door on the condition if she tells the truth on whose blood marks Deepa and Karthik found when they came out of the house. Mounitha says she doesn't know anything about it. Karthik comes and asks Mounitha what is she talking about?
Episode ends.
Precap – Sourya to see the poster and hopes her parents will come to her. Karthik asks Deepa where is she going? Deepa says she is going to Sanga Reddy. Karthik asks Deepa why is she going there? Deepa says she is going to search for Sourya. Karthik asks Deepa how can she be sure that Sourya is there. Deepa says she trusts her maternal instinct and says she will search until she finds Sourya.