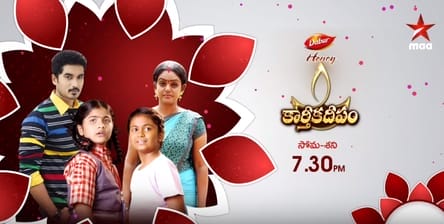 Karthika Deepam 28th May 2022 Written Update on TellyExpress.com
The episode starts with Prem asking Hima why she backed out from the engagement at the last moment. Hima requests him to not ask about that matter. Prem says it's not a small matter so tell me what happened. Hima says don't know who asked you to know it from me but my answer is final that I can't say anything about it. She leaves. Prem thinks what's in Hima's heart?
Shoba asks Shantabai to vacate her house and shifts to the area she mentions to do her work. Shantabai says her current house is comfortable for her. Shoba says you're shifting for my work so don't ask me why as I will tell you later what you have to do. She agrees. Shoba thinks she will create hate between Nirupam and Jwala.
Jwala and Nirupam are in the restaurant and waiting for Hima. Hima arrives at the restaurant thinking she has to get Jwala and Nirupam to come closer. Hima asks Jwala why she called her. Jwala says it's a normal meeting. Hima asks why they called her when they are together. Nirupam feels Shobha's idea is getting worked. Nirupam asks Jwala what she wants. Jwala tells she likes to eat what he orders. Nirupam orders Icecream. Jwala tells him it's her favorite. Hima orders hot soup for her. Nirupam smiles thinking it's her jealousy. Hima thinks she has to unite Jwala and Nirupam.
Prem thinks about how to confess his love to Hima without knowing what is she thinking in her heart. He says she is his life. Nirupam praises Jwala to make Hima feel jealous. Hima realizes what is he trying to do. Nirupam indirectly mocks Hima. Hima thinks I know your pain but you don't know how much Jwala loves you. Nirupam thinks he won't accept anyone as his life partner except Hima. He leaves from there telling them he has work.
Jwala tells Hima saying everyone can see the love between Doctor Saab and me then why you're stopping me to confess my love. Nirupam returns and asks what are they talking about. Jwala covers telling something. He is about to leave paying the bill. Jwala stops him telling age will confess her feeling. Hima says not now, so make him leave from here telling something. Jwala tells him bye. Hima tells her she has to propose on the day which much is rememberable.
Anandrao tells Soundarya that their house is looking empty without kids. Soundarya says they have to get Hima married. Hima returns home. Soundarya tells Hima that she has to marry to answer the people who are questioning them. Anandrao asks if she likes to marry others or not. Hima recalls Nirupam's confession.
Episode ends.
Precap – Prem scolds Jwala and warns her to not call him extra. Nirupam apologizes to Jwala from Prem's side. Jwala leaves.