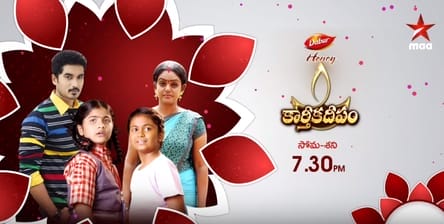 Karthika Deepam 8th July 2022 Written Update on TellyExpress.com
The episode starts with Jwala hugging Chandramma in tears. Indrudu asks her to tell him if anyone said to her anything so he can teach lessons to those people. Chandramma sends him to get food for Jwala and feels worried for Jwala. On the way, Soundarya and others feel bad thinking about Jwala's behavior. The next day, Jwala comes out and notices Anandrao.
Jwala asks why he sits here. Anandrao says we prayed to God to show you for us and he granted our wish and but you're not. So please come to our home for your grandparents. Jwala says she can't live with Hima. She says him to leave after drinking coffee. He says he came to take her not for coffee. Jwala says it doesn't happen.
Anandrao says don't know how many years we live so make us feel happy in our last days. Jwala requests him to not plead with her and tells him that she can't come with him. Anandrao says life is precious so don't waste ur because of your anger. Forgive people and move on. Jwala tells him her decision doesn't change.
Hima tells her parents photo that she will fulfill her promise by making Jwala married to Nirupam. Soundarya asks what's she doing. Hima says she failed to reduce Sourya's anger toward her. Soundarya asks what's she planning to do. Hima says she wants Sourya's happiness and I'm the reason behind her pains so I want her to get happiness by making her get married to Nirupam. Soundarya says it won't happen. Hima says she will make it happen.
Soundarya says your love is good but in scared seeing Jwala hate for you and don't let Swapna and Nirupam know that Jwala is Swapna. Hima asks can Sourya ever change? Soundarya says your grandfather went to change Sourya. Anandrao returns home. Hima and Soundarya ask what happened. Anandrao says Jwala didn't change her decision.
Jwala returns home. She thinks why doors are opened, did uncle and aunt return? She sees Hima at her place and asks what's she doing. Hima says we are sisters. Jwala says she hates that bond and asks her to not talk about it. Hima says she is cooking brinjal curry fit her as they are daughters of Vantalakka.
Jwala asks where is that Vantalakka? You killed my parents and snatched my love. She tries to throw her out saying she spoiled her life. Hima stops her and tells her that she will make her get married to Nirupam. Jwala asks what's she talking about? If she wants to betray her again? Hima asks how she expected that her sister will cheat on her?
Jwala says to Hima people who think are close to us will betray us and you are best example of it. Jwala asks if she thinking where to put her dead body. Hima tries to clear the misunderstandings bit Hima doesn't listen and pulls her out of the house and closes the door on her face. Hima knocks on the door. Hima thinks when will their misunderstandings become clear.
Episode ends.
Precap – Jwala asks Hima why are you still here. If you stay in the rain do you think I will feel pity for you and let you come in. Jwala tells to go to her home. Hima says she will take her home. Hima says let's talk inside. Jwala asks where is her home she is going to drop her there. Hima asks you are asking me where is our home. Jwala brings Hima to Soundarya's home. Hima asks her to come inside but she just goes away.