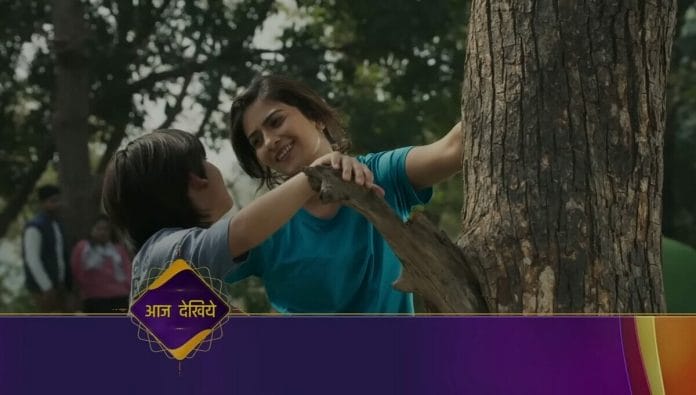 Katha Ankahee Spoilers, Upcoming Story, Latest Gossip , Future Story, Latest News and Upcoming Twist on tellyexpress.com
Aditi Sharma and Adnan Khan starrer Katha Ankahee is a newly launched Sony Tv show. This show is about how a widow also a single mother Katha doing multiple works to earn money for her Son Aarav's medical treatment who is diagnosed by a blood cancer and a business man Viaan who thinks women are with a man for his money.
Now that a furious Katha decides to go back to India without informing Viaan after Abadali's revelation while Viaan regrets his action so it will be interesting to watch that what going to happen in the future episodes.
In the current track it shown that Katha refuses to take break between meeting and dinner saying she can't afford it and leaves. Viaan and Katha meets Abadali and his partner's. Abdali praises Viaan for recognizing talent people's and giving them an opportunity to prove themselves and asks Katha's opinion but Katha ignores Viaan and praises Ehsan which irks Viaan.
Katha then saves a waiter from his supervisors wrath by taking a blame on herself and explains Abadali the reason behind her doing it which makes Abadali happy and impressed. Abdali praises Katha and asks Viaan to never let her go. Katha then jokes around with Abdali and his partner's.
Abdali reveals this meeting could have conducted even through a video call which shocks Katha. Katha gets furious but hides it infront of Abdali. Viaan pleads with Katha to spend a night with him to help him know about her perspective for which he is willing to give her two crore.
Katha shouts at Viaan that she isn't for sale. She also packs her things and goes to the airport where she waits for her flight. Meanwhile Viaan learns Katha went to airport so he also goes and finds Katha who is asleep while sitting on the chair.
Katha and Viaan's flight's final announcement for the passengers makes Viaan helpless when he finds Katha's sleeping figure.
In the upcoming episode it will be shown that Ehsan will joke at Viaan that they will conduct a meeting after Katha arrives only but Viaan will remain silent. Katha will plead with Chandra Sir to help her get a new job. Viaan will regret his actions.
Later Katha and Aarav will go for a picnic where Aarav will decides to climb on a tree with the help of Katha. Viaan will get worried after he learn that Katha's number isn't in a reachable state.
Will Katha get a new job?
What will Viaan do to stop Katha from leaving his company?
Will Viaan learn about Katha searching for a new job?
All these questions will be answered in the upcoming episodes.
To know more about what's happening in your favorite shows keep checking this space.