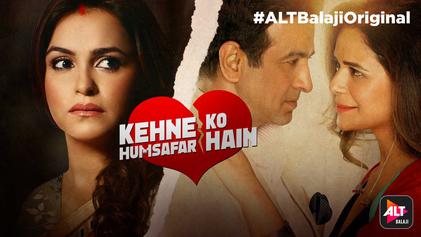 KEHNE KO HUMSAFAR HAI 2nd April 2020 WRITTEN UPDATE on TellyExpress.com
Bani comes home drunk, Rohit and Poonam come downstairs hearing the noise. He tries to handle Bani when he realizes that she is drunk. He confronts her to which she says, what a hot girlfriend he has found. She asks him to check his phone and he sees Ananya's message asking about Bani. He asks her to go to her room but she resists it.Bani goes to Poonam and says that her marriage is over, she tells that Rohit likes poetry and music which none of them are aware about.
Poonam asks her to shut up but she says that Rohit will leave all of them. Nikki hears them and starts crying and Bani also breaks down in Poonam's arms. Later Ananya texts him but Poonam sees her notification.Rohit comes to room and Poonam says that she is okay with his affair and he should accept her proposal but not talk about divorce. He says that because of his lie he could neither be with her not with Ananya completely. He tells her that he will give her the respect she deserves and take care of the kids but not like this.
Ananya leaves a voice message for him in anger and the next moment Rohit comes to her house with his bag. He tells her that his phone got switched off and then goes to set up his clothes. She asks him whether he is moving in and he says yes and goes to take shower. Next morning he comes with tea for Ananya and wakes her up but she gets startled because of not being habitual. She asks him about situation at home, he says that he will be there for them when they need him and it should work out and Poonam understands it.Ananya informs her friends that she won't come to work as Rohit asked her to stay at home but that moment he gets a calls that stresses him.
At home Pranav asks Poonam how is she managing this relationship after so much happening, she says that she can't understand what to do. The groom's family arrives and she welcomes them. Both families talk when Gurinder arrives with his wife. Arya's family asks about Rohit but a confusion happens with Poonam and Gurinder saying different things. Rohit comes home. Mr.Sood talks about Bani and Arya's wedding on which Rohit replies that there shouldn't be a rush for marriage. Poonam takes himaside before situation worsens.
Rohit tells Poonam that Bani is doing all this to take revenge from him and Nikki also confronts Bani regarding the same but she asks her not to spoil her mood.Ananya goes to meet her friends who ask about Rohit. She tells them that he had to go as Bani's to be in-laws were coming.Rohit tells Poonam once the truth about their divorce is out Bani will face problem but she interrupts them. He tells Bani not to spoil her life but she says that he has no right to decide about her life and if she is messing up her own life then be it.
Mr. Sood asks Rohit for a drink but he goes upstairs with Poonam. He confronts her regarding her acceptance for Bani's marriage despite of the fact that she is still very young but she says she is fine we her decision. Then she tells him she is ready to give him divorce on a condition that Ananya has to be present in the court when she signs the papers to show her how it feels when a family breaks.
Will Rohit agree to this condition put forward by Poonam? Stay tuned to know.