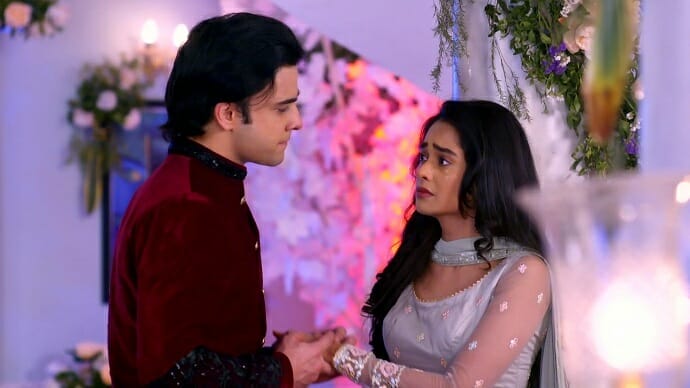 Kumkum Bhagya 15th September 2022 Written Update On TellyExpress.com
The episode starts with Mihika saying she didn't expect to hear this kind of good news while she just came to the house. Ranbir hearing it leaves from there. Mihika says if they are both ok with it then she will attend that marriage. Alia says they have both agreed that's why the marriage date is fixed. Alia takes Mihika from there saying "let's go I will show you new dresses for the function." Rahul comes to his friends and says this is the right time to implement their plan. They start their work.
Prachi goes after Ranbir. Prachi tries to explain to Ranbir but he doesn't want to listen to what she has to say. Prachi says to Ranbir that she was earning at that time for both of them. Ranbir feels hurt by what she said and argues with her. Prachi says she just wanted to live his dreams. Ranbir says his biggest dream was herself. Ranbir leaves saying this.
Rhea and Alia start praising Mihika for what she did. Mihika requests Alia and Rhea to allow her to leave. Rhea and Alia say they will not allow her as she is the life of the marriage. Sid comes to Alia's room. Sid calls Mihika. Mihika goes to Sid. Rhea taunts Sid. Sid asks Rhea and Alia to allow Mihika to leave. Rhea says they will not leave her. Sid says he is going to reveal everything to everyone as there is no threat for her in this house. Rhea and Alia call Sid stupid. Alia claps to call the goons. Goons come from the other door. They have a gun. Alia says to Sid that they are going to stay with Sid as his office boys. Rhea comments on Sid and Mihika.
Shahana tries to talk to Prachi. But Prachi says it doesn't matter to her anymore and everyone can do what they want. Shahana comments on it.
Aryan comes to Shahana. Shahana sees Aryan eating chips and she argues with him about it. Shahana says Ranbir and Prachi are worried about their lives and you are eating chips here as if you don't care. Shahana orders Aryan to check how Ranbir is doing. Aryan goes to check on Ranbir.
When Aryan knocks on the door. Ranbir thinks it is Prachi and starts talking to him. When he turns and sees it is Aryan. Ranbir asks Aryan why didn't he say anything. Aryan says he can only say anything if Ranbir gives him a chance. Ranbir talks to Aryan about Prachi and says now he doesn't care anymore. Aryan asks Ranbir now what is he going to report to Shahana. Ranbir says he just doesn't care anymore and walks away.
Mihika says to Rhea and Alia that everything will be out of control. Mihika says she saw some people in the kitchen with guns. Rhea and Alia laugh at Mihika thinking she was lying. Alia asks the Goons to take Mihika to her room. She will handle everything here. Alia and Rhea take Sid from the room. The goon also takes Mihika from there.
Rhea and Alia talk to each other. They both comment on Sid. Rhea and Alia see Pallavi and Daljeet talking. They comment on them.
Daljeet says to Pallavi that she is still suspicious of Rhea. Pallavi says to Daljeet that Rhea is trying to be a good daughter in law and how can we stop her? She asks Daljeet to atleast trust Rhea a little.
Vikram asks Ranbir how is he. Prachi runs into Ranbir and leaves and doesn't even say sorry. Ranbir says she is rude. Prachi hearing this turns and gives him an answer saying you will be treated the same way you treat others.
Episode ends
The episode starts with Prachi asking Rhea and Alia if they are hiding anything behind the blanket. She asks Alia why she sees other sides. Alia says nothing, I'm just seeing how Dida fell unconscious. Vikram comes there saying I'm sure my wife is in her room. Alia and Rhea hide goons. Vikram enters the room with the police. He tells I told you right that lady can't be in our house. He notices his mother and asks what happened. Ranbir tells they find Did unconscious behind the sofa. Inspector says their suspicion is correct. Ranbir asks what suspicion. Dida gains consciousness. Inspector fires his questions. Pallavi makes Dida drink water. Rhea and Alia slowly leave the room. Prachi asks Dida if she remembers who bought her home and who's responsible for her state. Dida points at Rhea and Alia and takes their names. Rhea and Alia leave from there. Ranbir and the police follow them. Prachi asks Dida if she remembers how she falls unconscious. Pallavi asks if they did it. Dida says she knows the truth and takes them out.
Vikram and Ranbir stop Rhea and Alia. They ask why they are escaping after Dida took their names. Rhea says they didn't hear. Inspector asks if they hired anyone to kidnap Dida. Rhea says they are family. Alia says you're misunderstanding Inspector. Dida comes there and says she knows the truth and doesn't know why you guys did it but I'm sure that you guys kidnapped some girl and your goons are behind me. Rhea says your health is not good. Dida says she knows that their goons made her unconscious. She asks Vikram to ask them who is that girl and why they kidnapped her. Vikram asks them to answer. Alia says Rhea forced her to do it. Rhea says it's Alia's plan. They argue with each other. Sid says they are on one team and Mihika. Alia says Mihika came to Delhi.
One of Rahul's friends informs others that family drama is happening and the police are still there. Rahul says Alia and Rhea are the worst people and we are doing this stealing for self respect and to teach a lesson to Alia. They decide to wait till the police leave the house. Alia says Rhea called Mihika here to reunite her with this family and she wants to make Dida accept her. Dida asks them to stop the drama and says she saw them at the hotel. Aryan comes there and asks what happened. Rhea says he is my brother and tries to show her affection to him but he doesn't support her.
Also See: