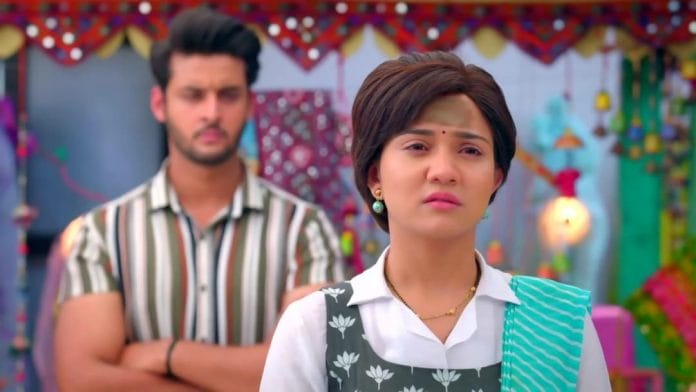 Meet 15th September 2022 Written Update On TellyExpress.com
The episode starts with Meet telling Barfi to clean the utensils and in the meantime she decides to search for money in Barfi's room. Sunaina feels thirsty and Ragini offers her water. Sunaina tells her she will manage. Ragini says they are staying separately doesn't mean they can't share things with each other. She pours water in glass and gives it to Sunaina. Sunaina says Meet has the locker keys so she doubts her intentions. Ragini shuts her up saying how can she just doubt Meet. Even after all these years Meet didn't change a bit. Though she chose to be in Barfi's side for Isha's sake but she doesn't support her in real. Ragini leaves and Sunaina says but she can't trust Meet fully. Ragini should also think practically.
Barfi washes the utensils and Babita, Ragini enjoy watching the scene. Ragini says she is happy to see Barfi doing work. Meet goes to Barfi's room to check where she hid the money. Barfi gets irked thinking Meet wants revenge from her thus she gave such a task to her. Neelam comes to help Barfi but the latter tells her to keep eyes on Meet. Neelam says Meet went to Barfi's room and Barfi gets shocked to hear that. She thinks Meet fooled her and she wanted to search her room. Barfi recalls Deep's photo with garland and she rushes to her room. Meet checks under Barfi's bed for the money.
Barfi enters and asks her what she is doing here? Meet makes excuse that she is sprinkling the holy water in her room. Barfi asks her if Meet doubts she stole the money? Meet says is it? Then she should check her room. Barfi warns her to not mess with her else there will be consequences. Neelam tells Barfi that the latter is being strict with Meet and gave her only 48 hours to prove herself innocent. Barfi says Neelam should stop showing sympathy to her sautan. Neelam says Meet doesn't look like a thief. Barfi says her innocence is fake and she fools everyone by showing that. She even won the challenge using that trick.
Barfi says this time Meet will get trapped and this will give happiness to Neelam only. Meet gets into thinking who might be the thief, she says what if Barfi didn't steal the money. Then who is the culprit? She overhears Sunaina's talk with her father that she arranged a huge amount of money from a secret source. She won't tell the source to anyone. Meet thinks if Sunaina is behind this. She also doubts Masoom that the latter entered her cabin many times. She also can be the thief. Hosiyar tells Dadi that he is sure Masoom has stolen the money. In flashback he goes to give tea to Masoom while she is sleeping. He tries to wake her up on the occasion of Ganpati puja. She gives him a coffee container and tells him to make coffee. Hosiyar scolds her saying why she stole the coffee jar from the office. She says it's her father's office, she can take anything. Hosiyar leaves the room and overhears that Masoom is talking to Mr Ahuja and telling him she will return the money to him soon. Flashback ends.
Hosiyar tells Dadi that Masoom stole the money to pay the debt for sure. They decide to catch Masoom red handed. Dadi tells him to find out an idea. Neelam thinks of wearing same colour clothes like Meet Ahlawat. She decides to put efforts to get close to Meet Ahlawat. Neelam waits for Meet Ahlawat to come. He and Meet come downstairs in deep pink clothes while Neelam is wearing purple. Neelam gets disheartened and Meet Ahlawat says his previous cloth's button was broken so he had to change it. Ragini tells Ram that it's God's sign, Meet and Meet Ahlawat are wearing color coordinating clothes unintentionally means they will never get separated. Neelam thinks Meet always comes between her and her husband and Barfi is right about her. She decides to take decision from his brain now.
Episode ends
Also See: