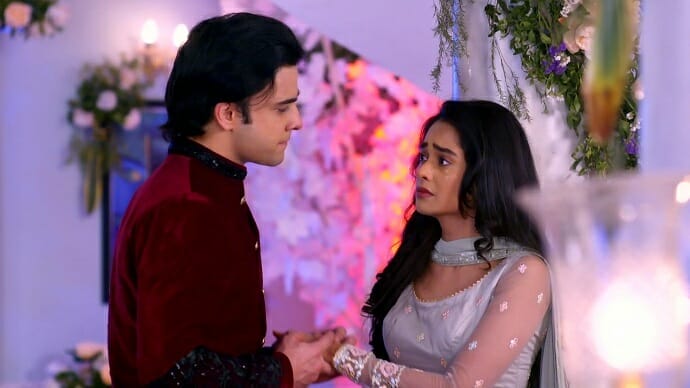 Kumkum Bhagya 18th January 2023 Written Update On TellyExpress.com
The episode starts with Alia saying to Prachi that as Prachi used Rhea against her for Prachi's benefit now she is going to use Prachi's child against her. Alia says to Prachi who is unconscious that when she regains consciousness, she will lose her mind as her baby will not be with her. Alia says bye to Prachi. Prachi recalls what Alia when she is unconscious. Rhea tries to go to the hospital but she gets stuck in a traffic jam. Daljeet gives a plate of cake to Shahana and asks them to feed it to Ranbir and Prachi. Shahana comments on it and goes to Ranbir and Prachi. Rhea stops a bike and says it is a medical emergency. Rhea asks the guy to give her a lift to the medical hospital.
Doctor says to the Kohli ladies that they are not allowed to celebrate here. Pallavi and Daljeet also convince and make the doctor eat sweet. Aryan compliments the Kohli ladies. Shahana sees a nurse taking Prachi's baby away. Shahana asks the nurse if it is Prachi's baby. But Alia ( nurse) doesn't say anything and leaves from there. Shahana goes to Prachi's room. Pallavi and Daljeet check their phone and see that they have a lot missed calls from Rhea. Rhea comes and asks where are Prachi and Daljeet. Daljeet and Prachi ask what happened. Rhea says there is no time to tell them. Rhea goes to Prachi's room along with Pallavi and Daljeet. The doctor stops Alia thinking she is the nurse. Shahana and Aryan come to Prachi's room and notice that Prachi and Ranbir are unconscious. Rhea comes and sees that the baby is missing. Rhea tells Aryan and Shahana that Alia made them unconscious and took Prachi's baby away. Rhea says she will look for Alia and tells them to wake Prachi and Ranbir. Aryan and Shahana wake Prachi and Ranbir.
Prachi regains her consciousness and thinks of what happened. Prachi asks Ranbir where is the baby and goes to look for it. Rhea sees Alia and tells her to stop. But Alia runs away from the hospital. Rhea tries to go after Alia. Prachi comes out of her room and looking for the baby. Doctor asks Prachi why did she come outside. Alia collides into a nurse. Alia gets into a taxi and leaves from there. Rhea, Prachi, and everyone come outside. They look for the baby but they don't find him. Prachi blames Ranbir for the baby getting kidnapped. Ranbir says he is unconscious right infornt of her. Rhea says it is none of their faults. Rhea says no one expected that Alia will come and kidnap the baby as she is in jail. The nurse says she saw a woman taking the baby away. Ranbir asks where did she go. The nurse says they went that way. The nurse says they can catch them at the traffic signal. Ranbir thanks the nurse. Prachi and Ranbir go to find the baby. Alia gets stuck in a traffic jam. Prachi looks for Alia in the traffic jam. Alia hears Prachi's voice and thinks what to do. Prachi and Ranbir look for Alia. Alia ducks her head in the car to hide from Prachi. The green light turns on and all the vehicles leave from there. Prachi falls on the road and shouts for the baby. Ranbir helps Prachi get in Rhea's car and decides to find Alia.
Alia comes with the baby to an old warehouse. Alia tells his men to go and bring milk for the Goon. Alia talks to the baby and says she is her genie who will make all her wishes come true. Alia tells the baby not to trust her too much and teases the baby. Ranbir calls the police and complaints saying that Alia kidnapped their baby. Police say they will come in a minute.
Ranbir asks Prachi to calm down. Prachi still doesn't calm down and blames Ranbir for her baby missing. Prachi says she is unconscious and Ranbir didn't do anything to stop Alia. Rhea also defends Ranbir but Prachi still blames Ranbir for the baby missing. Ranbir says Alia kidnapped their baby to take revenge on her. Ranbir says what is happening is because of her. Prachi gets hurt by what Ranbir said and loses consciousness. Ranbir apologises to Prachi for what he said. Pallavi asks Ranbir to take Prachi to their room.
The police come to Kohli's mansion. Pallavi tells the police that Alia kidnapped Ranbir and Prachi's child. Rhea says she might know where Alia took the child. The inspector asks Rhea to message them the address. The whole family says they will come to with them. Rhea says there are two godowns and says we need to look for them there.
Prachi worries about the baby. Ranbir tries to calm her down but it is of no use. Prachi loses her consciousness. Ranbir calls the doctor and tells him to come quickly.
Rhea and the police come to Godown but they see that Alia is not there. Rhea calls Pallavi to ask if they found Alia in the other godown but Pallavi also says they didn't find Alia here.
Episode ends.
Also See: