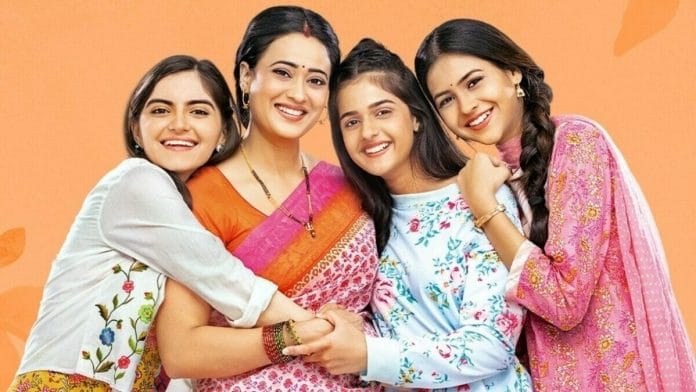 Main Hoon Aparajita 18th January 2023 Written Update On TellyExpress.com
The episode starts with Aparajita asking Akshay to get ready and tries to leave but Akshay pulls her back and says don't go so far away that a third person can enter between us. Aparajita looks on. Mohini enters Aparajita's house and decides to make Akshay recall her. Aparajita removes his hand and thinks you left me and you're the one who bought 3rd person between us. She opens the door to leave. Mohini sees her. Akshay thinks about why Mohini came. Aparajita asks Akshay to get ready and leaves closing the door. Mohini follows Aparajita and confronts why she slept in Akshay's room after saying she won't stay in his room and asks what's happening. Dadi and Akshay come out. Aparajita says Akshay's my husband in this house and I know how to take care of him and you don't need to worry. Akshay feels good hearing it.
Akshay goes there saying good morning Amma. Mohini says good morning, I came to take you to my place as my brother asked me to bring you for change. Aparajita says he needs rest and we will take him out if he wants. Akshay thinks Aparajita will be jealous and asks Mohini to do his therapy session. He asks Amma to not disturb him and takes Mohini to his room. Aparajita says to Amma that Akshay is trying to make her feel jealous and with this Mohini get an opportunity, hoping the situation won't go out of control. Mohini closes the room door. Akshay asks her to remove it but she refuses and asks him to remove his shirt. He thinks why Aparajita didn't come. He asks Mohini to do therapy on his dress. Mohini starts his therapy. Akshay feels uncomfortable. Aparajita comes there in a dress. Akshay pushes Mohini and goes to Aparajita. He says this is my Appu and I missed you so much and finally, you're back. He places a black teeka behind her ear. Mohini feels jealous. Akshay says something is missing. He brings a sindoor box and fills Aparajita's hair partition with it. Some of the sindoor falls on ger nose. Mohini is taken aback and controls her anger. Akshay clears Sindoor from Aparajita's nose. He thanks her for coming into his life. Mohini pushes the sindoor box from Akshay's hand and leaves. Akshay says Mohini is strange and what's her problem if husband fills the sindoor in his wife's hair partition. Aparajita says it's wrong and leaves.
Amma asks Aparajita what happened. Akshay comes there and questions what wrong he did. He asks if they are hiding anything from him. He questions where is her mangalsutra. Chavi hears their conversation. Akshay says you're not relaxed when you lose your mangalsutra until you get it but this time you're not thinking about it. Akshay asks Aparajita to call the jeweller and ask the jeweller for her Mangalsutra. Aparajita says she called him and he said he will give it tomorrow. Akshay asks Aparajita what is her problem to wear Mangalsutra and Sindhur. Dadi stops Akshay and asks Akshay to allow Aparajita to go as it is time for her medicine. Aparajita recalls her past. Akshay is about to go to work. Aparajita gives him tiffin. Akshay leaves from there without putting Sindhur on Aparajita's Maang. Aparajita feels sad. Akshay comes back and puts Sindhur on Aparajita's Maang. Akshay flirts with Aparajita. Aparajita recalls about it.
Akshay asks Dadi what is Aparajita's problem to have Sindhur on her Maang and wearing Mangalsutra in her neck. Dadi comments on it. Akshay says today Aparajita has to wear her Mangalsutra. Dadi recalls what happened and thinks if Aparajita will really wear the Mangalsutra or not.
Episode ends
Also Check: