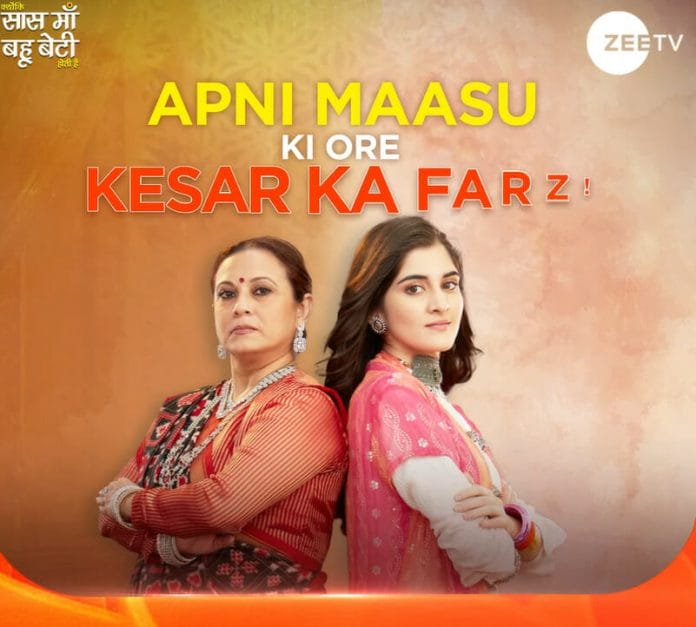 Kyunki Saas Maa Bahu Beti Hoti Hai 14th November 2023 Written Update on TellyExpress.com
The episode starts with Ridhi and Dhruvi asking Kesar about her dream? Kesar says her dream is to complete Ambica's Sankalp. Dhruvi says to Kesar that it is Ambica's dream and asks Kesar what is her personal dream as an individual. Kesar thinks about it and burns her hand lightly. Dhruvi asks Kesar to be careful and leaves from there. Kesar thinks what is her dream as an individual.
Leela says to Ambica about Suraj coming to her and wishing to marry Kesar at the auspicious date fixed by the Pandit after a week. Ambica says to Leela that Kesar needs some time as she is searching for her identity. Leela asks Ambica what will she do if Kesar doesn't agree to do this marriage and breaks her Sankalp. Ambica says she will accept Kesar's decision and respect it.
The Rajgaur company staff give the diamonds to Kesar and they finally feel relieved as they gave the diamonds to Kesar and they couldn't afford the diamonds if they lost it. Kesar hearing this thinks why can't she make diamonds affordable to everyone.
Ambica comes to Suraj and says to Suraj that she hopes that he will learn one of his father's habit and says it's to treat his partner equally. Suraj thinks about it. Ambica says she hopes that he will treat Kesar equally.
It is shown Ansh is in Moksh and Aarthi's engagement. Ansh decides to stop this marriage by finding evidence against Moksh.
Shakuntala brings Kiran into the house disguised as a woman. Kiran praises Shakuntala for bringing him into the engagement party without anyone's notice. Shakuntala asks Kiran to make sure that Kabir doesn't find out about their secret and says if Kabir finds out about it then he might try to break off this marriage.
Kabir looks at Kesar Barfi and thinks Kesar likes this sweet very much. Jugni advises Kabir to send this Kesar Barfi to Kesar. Kabir agrees.
A servant comes and says Kesar got this delivery showing the sweet box to Kesar. Kesar looks at Kesar Barfi and thinks of Kabir.
Suraj comes and wishes happy small Diwali to Kesar. Kesar thanks Suraj. Suraj says to Kesar that he would like to offer her an equal partnership in Diamond park project. Suraj asks Kesar to think about his proposal. Ambica says to Kesar that Suraj has realised his mistake and asks Kesar to give him a chance. Kesar asks Ambica if she will say the same thing if she did that mistake. Ambica stays silent.
Kiran comes to Aarthi and flirts with Aarthi. Ansh sees Aarthi is feeling uncomfortable so he throws the glass towards Aarthi's room.
Kabir and others hear the sound of glass breaking and they go to Aarthi's room. Kabir brings Aarthi out of her trance and asks Aarthi what happened? Aarthi says nothing happened. It is shown Kiran knocks out Aarthi using some knock out drug and tries to kiss her but he couldn't. Moksh sees Kiran hiding in the room.
Kabir asks Aarthi to promise him that she will tell him if anyone is troubling her. Aarthi says Moksh is troubling her.
Kesar comes to Suraj and thanks him for his offer but she says no to Suraj's offer. Suraj asks Kesar why is that and asks Kesar if she doesn't want to do this marriage.
Episode ends.
Also See: