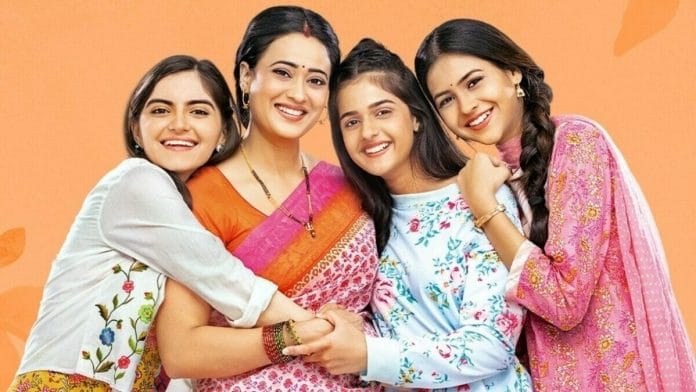 Main Hoon Aparajita 3rd January 2023 Written Update On TellyExpress.com
The episode starts with Aparajita saying to Disha that they have to show Rithika's video to Akshay and they can't wait until the party gets ended. Disha asks her to don't worry. Chavi recalls Mohini's word that she may lose Veer if he went to London. Mohini gives engagement rings to Chavi and Veer. Veer and Chavi exchange rings. Asha video calls Disha. Aparajita notices Chavi is looking dull. After engagement Akshay announces Chavi and Veer are going to get married after a week before Veer leaves for London. Aparajita is taken aback and stops the van. Mohini smirks and thinks now Aparajita can't do anything. Aparajita says it's enough of everything. She decides to end Mohini's games by exposing Veer.
Aparajita enters the venue and confronts Akshay about why he decided marriage date without her permission. Chavi stops her and reveals to her that she was the one who requested Akshay for early marriage. Aparajita asks why she changed her decision and why she didn't inform her. Chavi says she will study in foreign. Aparajita asks who made her change her decision. Akshay stops Aparajita and says Chavi is grown up and she is taking decisions for her life then what's your problem? Aparajita says someone investigated her so it's needed for us to know what happened. She asks Chavi to tell her what happened. Chavi says I'm scared and I don't want to lose Veer like I lose Dad and I'm scared that Veer may leave me like Dad left you. Guest gossip about it. Chavi apologises to Aparajita. Aparajita tells Akshay that she wants to talk with him. Veer feels scared and thinks what's Aparajita's new plan? Mohini stands in front of them. Aparajita pushes her and takes Akshay with her to the room.
Aparajita closes the door. Akshay asks Aparajita why she brings him to the room. He says Chavi is right and her marriage will happen with Veer. Aparajita says this marriage won't happen, you asked me to get proof against Veer and I got it. Akshay asks whats it.
Mohini is about to enter the room. Disha stops her and says to Mohini that she already ruined Aparajita's life and Aparajita will not allow her to ruin Chavi's life. Mohini says she wants to go inside. Disha stops Mohini and says there is nothing happening only her plan is going to be ruined. Aparajita says to Akshay that she has proof that Veer used to hit Ritika so much that she has to be hospitalized because of it. Aparajita shows the video to Akshay. Mohini escapes from Disha and comes into the room and asks Akshay what is happening. Disha thinks if she threw Mohini out of the room then Veer might alert. Mohini asks Akshay if there is really proof against Veer. Aparajita argues with Mohini about it. Akshay asks Aparajita about it. Aparajita asks Akshay to just see the video and then talk. Akshay tries to look at the video but Aparajita's phone gets switched off. Mohini asks Aparajita to stop instigating him. Akshay goes to charge the phone. He says he will decide after seeing the video and let's find out what's the truth.
Amma receives Guruji's call. Guruji tells Amma that Akshay's life is in danger for the next 6 months and not let him leave the house until I arrive tomorrow. Akshay drinks water. Mohini intentionally pushes water on the phone. She says sorry. Aparajita scolds Mohini for spoiling the phone intentionally. Mohini says she didn't know whats she talking. Aparajita says Mohini knows about Veer and she is intentionally getting Veer and Chavi married. Akshay warns Aparajita to stop accusing Mohini and asks her to stop her dramas. Aparajita says Mohini is playing dramas not me. Mohini asks how can she accuse her. Aparajita says Mohini knows that her video is in it to along with Veer that's why she spooked it but don't worry I will repair it. Akshay takes the phone and tells he will repair it and know who is lying and who's saying the truth. He leaves. Mohini feels tense.
Episode ends.
Also Check: