Star plus show Ek Bhram- Sarvagun Sampanna is currently viewing major drama with Manohar knowing Jhanvi's real name and Jhanvi getting scared.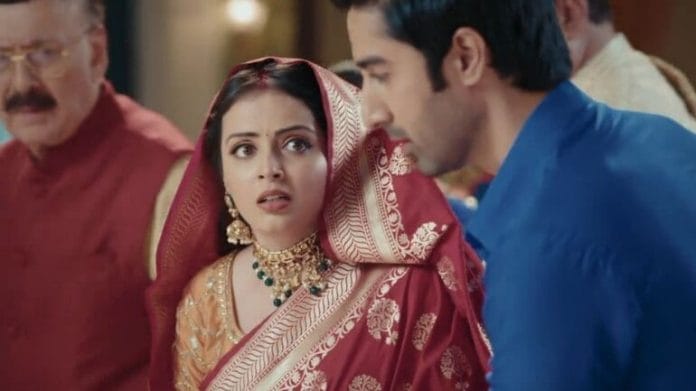 Jhanvi dreams Manohar telling her truth to Prem and he burning her alive. Jhanvi screams and burns her hand while Kabir comes there to help Jhanvi. Jhanvi says she is fine, Kabir advises her to take care of herself too.
PK tells Jhanvi that he has asked Manohar to take out info about Kavya. Jhanvi says Kavya is a simple girl. PK says he can't risk his family because of her. Later, everyone goes for Pooja. Media covers their entry. PK sees some women standing there and asks Jhanvi why they are here. Jhanvi says she called them there for some purpose. She tells him that he has to distribute them Saree and have to wash their feets. PK gets anger and Jhanvi made him understand that this is necessary to rebuild his image. PK agrees to her and did the same. Kabir gets irked seeing the fakeness of PK and excuses himself from there. Jhanvi asks Kabir to stand with his family but Kabir denied.
Now in the upcoming episode will see, during the 'Bhoomi Pooja', the commissioner introduces Prem to Suhasini Devi and Manohar blackmails Jhanvi. While the rituals are taking place, Shail arrives and questions PK for his wrongdoings. Otherside, reporter will ask PK that his charity and work are to hide because whatever happened 20yrs ago, to which PK will answer it was done by fraud doctor Ashok Sharma.
What will be Jhanvi's next move against Mittal's will be interesting to watch. Keep watching Ek Ebhram-Sarvagun Sampanna, mon-fri,7pm on Star Plus
Stay tuned with us for more updates.