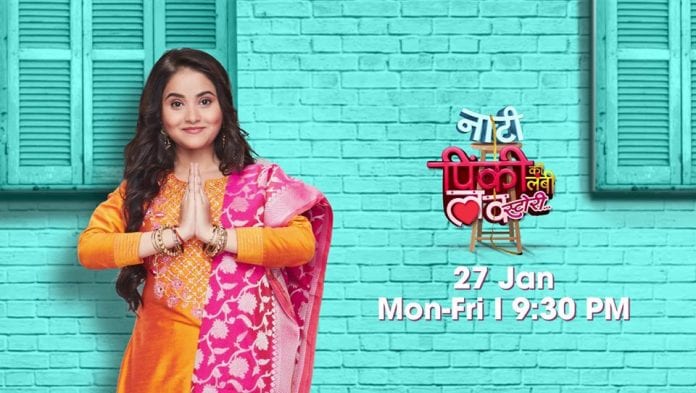 Naati Pinky Ki Lambi Love Story 31st July 2020 Written Update on TellyExpress.com
Episode starts with Arjun says he will take Nandu far from this city and asks Sunny to call the watchman. Sunny says you took good decision. Pinky sees Arjun gonna leave in car in car than she about to go towards him but Nalini stops her. Pinky begs her mom to allow her to convince Arjun for second marriage otherwise he will land up another problem and people will think like we left Nandu thinking she is outsider. Nalini stays silent than Pinky goes and stops Arjun car abdvsays you will never get Nandu in life if this plan gets failed. Arjun asks her to leave the way. Pinky says how many days you will ran with her so please marry to get your Nandu. Nalini also asks him to get married for Nandu adoption. Arjun says he can't than Sunny asks him to do fake marriage. Nalini and Pinky agrees with Sunny idea. Arjun agrees.
Sunny says where we can find fake bride. Pinky sats let's try in drama companies and tomorrow evening we are going to Kanpur. Sunny says he will try. Kalyani informs Mrs Venkataraman that his son is getting married for Adoption. Amma says he won't even think about to marry someone after Ananya demise. kalyani says let's make our daughter reach us so we can leave to Dubai. Mrs Venkataraman says they will get their daughter and thinks who can be the girl.
Sunny calls to Pinky and she informs to Arjun that she will leave to Kanpur once he grts married and asks him to manage everything. Ram stands behind her and he asks Nalini is everything is ready for our trip. Nalini says yes. Ram says let's ready for engagement too because Vikas is really good and he asks Pinky to get ready at early morning for their Kanpur trip. Pinky gets worried thinking Arjun have to do everything alone.
Kalyani steals pic of fake bride from Sunny phone and sends it to Mrs Venkataraman. Arjun and Sunny sets deal with fake bride. Mrs Venkataraman calls fake bride and asks how much money you're getting.
Sunny arranges everything for Arjun fake marriage. Shradda notices Pinky sad and asks what happened. Pinky says once again I'm leaving from my room don't know what will happen. Shradda asks her to tell about her dreamboy qualities. Pinky says she needs someone who understand her without saying anything and who keeps child inside her alive.
Arjun thanks Sunny fit his help than he apoloizes to Ananya pic for his fake marriage. Pinky about to leave with Nalini to Kanpur and she asks everything will be fine right. Nalini says don't worry. Pinky asks Chacha did you remember everything. Lakshman says yes and takes suitcase with him and informs to Ram that he can't go with him. Ram says fine. Aasha goes with Pinky in their car.
Lakshman comes to Arjun house as fake Pandit. Sunny asks him to manage than Lakshman thinks he don't know mantras and contacts their Family pandit to conduct the marriage. Sunny gets worried when Sangeeta didn't attend his call than he calls Pinky. Asha asks whose call. Pinky says unknown number and acts like she is getting vomiting and comes out from car and get to know that Sangeeta is not attending the calls. Mrs Venkataraman offers double amount to Sangeeta and asks her not to go to marry Arjun. Sangeeta agrees. Pinky gets worried thinking what if fake bride reach on time.