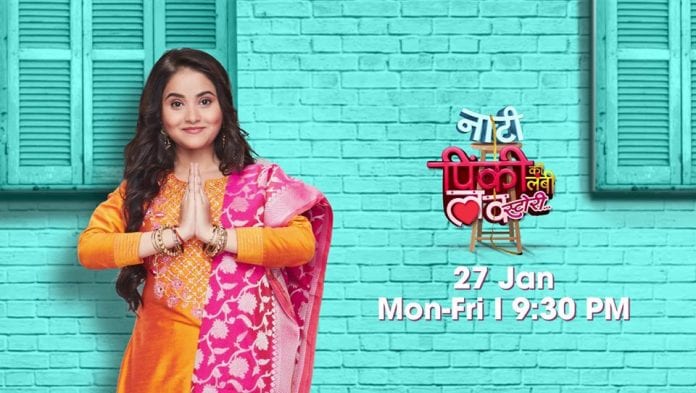 Naati Pinky Ki Lambi Love Story 5th August 2020 Written Update on TellyExpress.com
Episode starts with Pinky comes outside from room and Asha aaks where you Pinky because I heard your plan correctly. Pinky leaves to her mom ward without answering Asha. Nalini feels uncomfortable in sleep. Pinky tries to change her position than Arjun also helps her. Pinky reminsces her marriage. Arjun asks Pinky to come outside and take her out holding her hand, Pinky reminsces their Pheras. Arjun asks Pinky where is Imarti because I have to leave with her to sign on papers and Sunny said you know her. Pinky says she is here and sats that she is Imarti, and got married to him. Arjun gets shocked and says are you fine mas. Pinky says it's truth and I done it to save Nandu. Arjun laughs and says you're joking right. Pinky says no. Arjun says I saw how Ananya beared the pain so I want us to end this matter. Pinky says let's end it after getting Nandu. Arjun says I can't use anyone for my happiness and I will end it. Everything happens to be Pinky dream. Arjun asks what happened and Sunny asks her about Imarti and sats its good if you sit in Mandap like bride. Arjun scolds him and says he never part of those plan.
Arjun asks Pinky about Imarti and says to her that he will say to Imarti that this Shaadi is real and noine is important to me at this time more than Nandu so please ask her to come with me to office to get back my Nandu and don't worry your dad will be fine and leaves. Pinky gets worried than she feels drowsy and losts her conscious on stretcher. Nurses takes her to operation theatre.
Arjun reaches to Seema office. Seema asks about Ram health. Arjun says fine. Seema asks about his wife. Sunny says she will reach soon. Arjun asks permission to meet Nandu. Seema allows him. Arjun feels happy after meeting Nandu and assures her that he will take her with him. Pinky wakesup at operation theatre and while escaping from doctor ,she gets idea of double role to clear the problems of Ram and Nandu.
Arjun gives toast to Nandu and she enjoys it and says this place is not comfortable and explains about how kids are not safe with step mom. Seema asks where is your wife. Nandu asks what's she saying. Arjun manages get saying something and leaves with Seems to complete formalities. Seema says strange that your daughter don't know about your marriage. Sunny says she will know at good time. Seema says you married to other woman to take care of everything right. Arjun says even he don't know about her. Seema says we can't trust anyone these days, she can be fraud too and about to leave than Imarti enters in her weird getup and greets Seema. Seema welcomes her asks her to finish the formalities. Arjun and Imarti signs on the papers. Seema says your Jodi is unique and where you guys met. Sunny, Pinky and Arjun says different places. Seema looks at them in suspicious way.