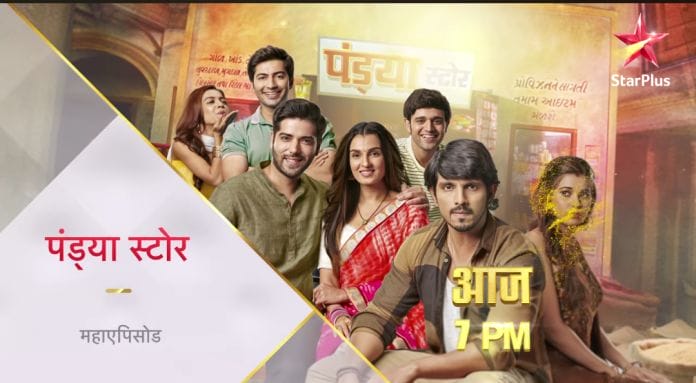 Pandya Store 17th January 2023 Written Update on TellyExpress.com
The episode starts with the story taking a leap of seven years. Dhara places the kites on the names of all Pandyas on the sofa table. She thinks that children will be happy to see it. She realizes that she forgot to make laddu and Shiva will get angry if he doesn't have enough. A boy slowly walks to Dhara. Dhara senses it. She turns around and showers flower petals on him. Chiku is surprised that she always senses his presence. Dhara says that she can feel his heartbeat in the air. Chiku hugs Dhara and wishes her a happy Uttarayan. Chiku Dhara warns Chiku not to have food before offering it to God. However, Chiku runs towards the kitchen. Dhara tries to catch him. She falls behind. Chiku holds her. Chiku asks Dhara to take care of herself.
Dhara says that Chiku is there to take care of her. Chiku says that Dhara transferred all her worries to him, so he has to do all the work. He mentions each Pandya family member's dishes and asks where they are. Dhara shows the dishes she prepared for them. Chiku gets the ice cream that Dhara forgot to buy for Rishita. Dhara is surprised that Chiku takes care of the whole family and asks him since when he has become so wise. Chiku says that he got this quality from Dhara who always cares about the family first. Dhara says that she will call Gautam and asks him to come home. Chiku asks Dhara to call others too. Dhara agrees.
Chiku gets ready wearing the helmet, hand and knee pads. He says that he is going to meet his grandmother. In the shop, Gautam is sitting alone. He is laughing and is playing the string game. He mistakenly drops a few things. He asks Shiva and Dev to pick them up. He closes the shop. He is about to fall. A man holds Gautam and asks why he is closing the shop on the day Uttarayan. Gautam says that he is closing because of Uttarayan. He sees a kid performing the ritual in a shop and recalls Shiva. Gautam receives Dhara's call. He gets angry and rejects it. The man asks Guatam to go home without falling down. Gautam says that he has been waiting since seven years for someone to come and support him.
Suman pushes Chiku out of the room. Dhara rushes to Chiku and asks if he has been injured. Suman taunts Chiku and says that she gets hurt every time she sees Chiku. Suman is busy playing video games with children. Dhara asks Suman to take a bath so that they can perform puja. Suman taunts Dhara and asks her to take Chiku away. She says that her life got spoiled because of him. Dhara asks the children to leave. But Suman stops the children from leaving and asks Dhara to take Chiku away from her. Chiku assures Dhara that he's safe in front of Dadi as he is wearing protection. Suman warns Chiku not to call her Dadi. She says that she's not his Dadi, but only Chutki's Dadi.
Dhara bursts out in tears, sitting on the swing. She laments about Pandyas and Chiku not being with her. Chiku wipes Dhara's hands. He says that in his dream God brought Rishita-Dev, Shiva-Raavi and Chutki home. They brought a lot of toys for him. He asks Dhara not to cry and assures her that he isn't hurt by Dadi's words. Dhara says that she's hurt as she's responsible for whatever happened, but Chiku has to suffer for her mistake and gets ignored by his Dadi.
Chiku asks Dhara not to blame herself. He says that his mom is the best and can't wrong anyone. Dhara says that if it was the case, their family would have been with them. She says that Shweta ruined everything and separated her family on the day of the festival and she's not able to reunite them despite her many attempts. She recalls what happened seven years before. A FB shows. Pandyas fail to catch Shweta. The latter goes out of Somnaath taking Chiku. Pandyas blame Dhara for that. Rishita and Dev leave the house forever.
The episode ends.
Precap: Gautam, Dhara and Chiku are busy with flying kites. Suman shouts Dhara. Dhara goes to check and is shocked to find her lying unconscious on the floor.
Click to read