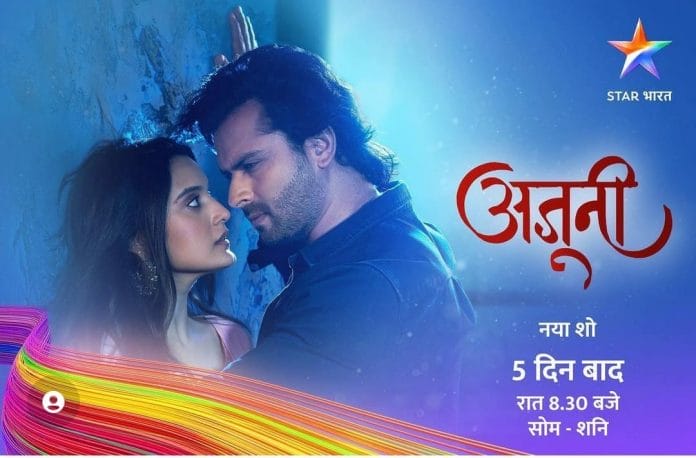 Ajooni 17th January 2023 Written Update on TellyExpress.com
Episode begins with Ajooni tells Bebe that they plays antakshari after puja. She asks permission from her to play antakshari. Sethi's wife says that it's a good idea and she will play too. Ravinder says that everyone will play. Rajveer asks everyone to take their seats. They divides into two teams and it's boys vs girls. Everyone sings and enjoys it. Rajveer dances with Ajooni while singing. Ajooni tells " I love you " to Rajveer through a song. He understands that she won the challenge and he smiles.
Later, Ajooni tells Rajveer that he is disturbing her. Rajveer reminds her about her song. She tells him that everything went well today but Aman has no idea what she did. She says that Shikha would have mixed bhang in the milk glass. She wonders that how is Aman now. He tells her that he is worried about Harvinder and smriks.
Meanwhile, Aman enters the room and locks the door. Harvinder tells her that she can't win his heart by wearing dress like Shikha. He says that Aman can't match with Shikha no matter what. She dances around him and they falls on the bed.
Next day, Shikha receives Dolly's letter which states that Dolly realised her mistake and she want to apologize to Ravinder and she asks him to pick her from the place where she is waiting for him. She hides the letter seeing Rajveer. He asks her that whose letter is that. She lies to him that that's her personal letter. He warns her to not try to hurt Aman and goes inside. She plans to use Dolly against Baggas.
On the other hand, Ajooni's father Subhash finds Dolly in the park and he asks her that what is she doing there alone. Dolly asks him to leave her alone. He tells her that that place is not safe. She tells him that Ravinder will come there. He asks her to call him if she faced any problem then and leaves from there.
Ravinder tells Harman that his family ladies are waste. He says that he feel that Dolly is useless and her fate is not good. Harman tells him that he should worry about Dolly. He tells her that Dolly is staying in her friend Sowmya's house peacefully. She tells him that Dolly is their daughter so he should forgive Dolly. He tells her that Dolly did not come to apologize to him. She tells him that Dolly is adamant like him. He tells her that he won't forgive Dolly until Dolly comes to him.
Later, Shikha informs Ravinder that Dolly sent letter. Bebe asks her to read it. Shikha reads the letter which she changed. She tells them that Dolly want Ravinder to apologize. Ravinder gets angry.
Episode ends.
Precap – Ravinder burns the letter and says that Dolly is dead for him. Later, Ajooni accuses Shikha in Aman's bhang matter.
Click to read