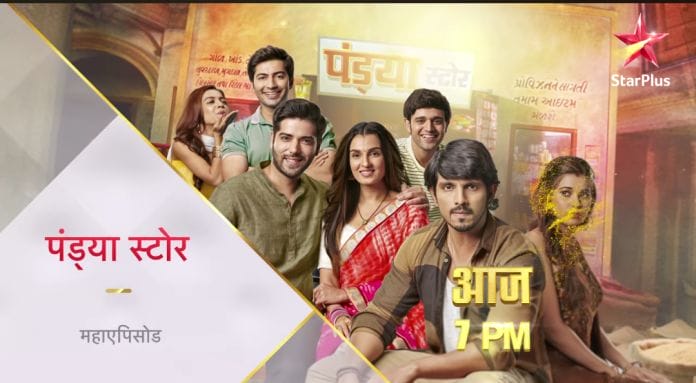 Pandya Store 4th January 2023 Written Update on TellyExpress.com
The episode starts with Dhara begging the inspector to give Chutki, who is crying, to her so that she can calm her down. But the police refuse to give Chutki to her and put her inside the lockup. Meanwhile, Dev and Rishta get on their knees and plead with Shweta to tell them Dhara and Chutki's whereabouts. Shweta smirks. She ignores them and takes out a can of soft drink and sips it. Rishta gets angry. She throws away the can. At the police station, Dhara begs the constables to give her Chutki. But they refuse. A constable asks Dhara for Chutki's mom's number.
Dhara gives it to her. She dials it and says that the baby's mom hasn't answered the call. Dhara urges the constable to try again. Here, Rishita threatens to attack Shweta and asks to tell her where Chutki is. Shweta admits that Dhara came there along with Chutki to steal the photo of her father-in-law, so she called the police. The police arrested them. Dev and Rishita are shocked to hear this. Shweta instigates Rishita against Dhara by saying that Dhara brought Chutki to gain sympathy. She calls Dhara selfish and she is wrong and not her. Rishita and Dev run from there. Shweta shouts that Dhara will ruin them.
Rishita and Dev reach the police station. Rishita shouts at the constable for taking a baby to the police station and asks her what crime Chukti did. Rishita takes the baby from the constable and tries to calm her down. Dev goes to Dhara and asks who gave her the permission to take Chukti with her and asks who would take the responsibility if anything happened to her.
Dev goes and takes the baby from Rishita. Dhara tries to explain that she didn't do it deliberately. Rishita lashes out at Dhara. She says that Dhara won't hesitate to even sell the whole family one day. Dhara says that she didn't expect that Shweta would trap her and get her arrested. Rishita blames Dhara for Chutki getting arrested. She cries. Dhara explains that she went to steal the certificate to make everything fine. Rishita asks Dhara why she didn't take Chiku with her instead of Chutki. Rishita requests the inspector to release the baby.
The inspector refuses. He says that they can't let the baby go till Shweta takes her complaint back. Dev says that Shweta considers them as her number one enemy, so she will never take her complaint back. The inspector asks them to stay in the police station with the baby till the judgement comes. Rishita asks Dev to bring Shweta somehow. Dev wonders whether to go home or to Shweta. He asks the inspector to make Rishita and the baby sit in a room. The inspector asks him not to teach him his work. Dev leaves. Dhara asks the inspector how they can do this and cries.
In Pandya's house, Gautam scolds Krish for not informing him as soon as Dhara has left the home. He decides to go and find Dhara, Chutki, Rishita and Dev as they don't know their whereabouts. Just then, Dev arrives. He says that Dhara did wrong and says that Chutki is in jail because of her mistake, which shocks Gautam, Krish and Suman.
Dev tells them what happened. He blames Dhara for what happened. Dev says that the inspector says that Shweta has to withdraw the case to leave this case. Gautam decides to talk to Shweta. Suman decides to beg Shweta to take her complaint back, as Shweta didn't listen to her the last time he went to talk to her. Gautam and Krish stop Suman. Dev complains that Suman should have stopped Dhara from taking Chutki with her. Suman says that she didn't see them leaving. Dev asks Suman to say to Dhara to stop putting the family members in trouble for her selfishness when she returns.
Gautam admits that Dhara did wrong, but she didn't do it intentionally. Dev says to Gautam that he is still defending Dhara. He says that Chutki is in bad condition after crying a lot. Suman asks Gautam to convince Shweta to take her complaint back somehow. Krish stops Gautam and says that he will go as he has something to force her to take her complaint back. Dev warns Krish that he won't spare him if Shweta gets provoked more after him talking with her. Krish goes to Shweta and urges her to take her complaint back. Shweta threatens Krish to file a molestation case against him.
The episode ends.
Precap: Chutki gets hospitalized and the nurse asks Dev and Rishita to get the injection, which costs 15,000 for Chutki. Dev tells the same to Dhara and Gautam and wonders how to arrange money.
Click to read