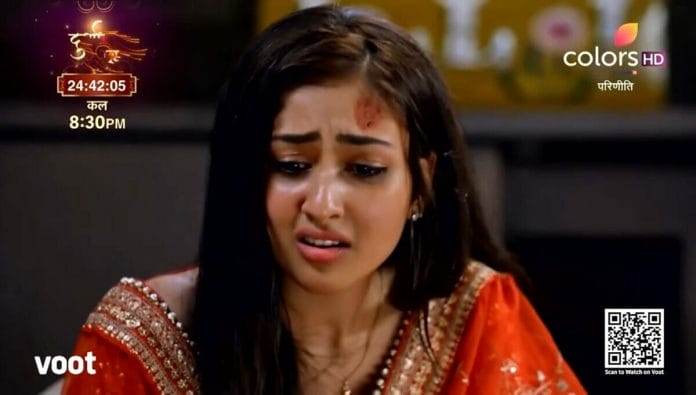 Parineetii Spoilers, Upcoming Story, Latest Gossip , Future Story, Latest News and Upcoming Twist on tellyexpress.com
Parineeti is Colors TV's popular show. This show never fails to entertain its audience with a unique story line. Now, the series focuses on Parineet to lose hope
In the recent episode we see; Neeti assured Parineet that she will reach near her asap. She advised her to don't lose her hope. Parineet disconnected the call. Neeti confronted Alahawat to share Parineet location. He refused to answer her. Neeti threatened him to ruin his image.
Alahawat said to her that he sent his henchman to kill her. But she don't have proof against him. Neeti revealed to him that Parineet is alive. Rajeev took her from there. Alahawat was shocked to learn that Leo didn't killed her but buried her alive. He lashed out at him.
Rajeev took ACP help to trace Parineet's location. He assured to help him. Parineet shares the coffin shop owner name to him. Rajeev reached to the shop and learnt that she was locked inside a coffin.
In the upcoming episode viewers will see; ACP will inform to Rajeev that he traced Parineet's location. Rajeev will ask ACP to reach there asap. He is going there first.
Meanwhile, Rajeev will reach the spot and notice the graveyard. He will dig the place and find her hand. He will take Parineet out of the coffin.
What will happen next? When will Parineet reveal the truth to Neeti? Will Rajeev save Parineet from Rakesh?
The upcoming episode will answer all our questions and stay in tune with our space for more updates