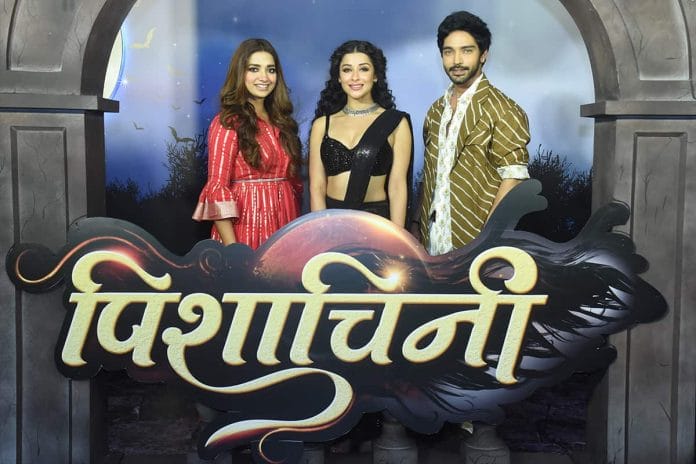 Pishachini 16th November 2022 Written Update on TellyExpress.com
The episode starts with Pavitra, Rocky and Shikha returning home. Sapna hugs Rocky and Pavitra. Bubli asks Shikha if she's fine. Just then, Sudhakar says Kanika on seeing Pavitra's aunt. Kanika introduces herself as Kanika Sharma, the priest's younger daughter and Pavitra's aunt. Rocky says that Kanika is the real Nashak, which shocks the Rajputs. Sudhakar says, but Veer went along with Pavitra. Rocky says that Veer was pretending to be Nashak in real he was Maha Pishach, which shocks the Rajputs again. Sapna goes to Shikha and cries, hugging her, feeling sad about what happened to Shikha. Shikha asks her family to leave her alone and goes to her room. Bubli feels pity for Shikha's fate. Pavitra asks Bubli not to say that. She says that worse could have happened with Shikha if Veer's truth hadn't come out. Shikha goes to Rani. She says to Rani that she has come to free her and asks what she can give her in return.
Pavitra goes to Rocky to treat Rocky's wounds. Pavitra finds Rocky angry and asks what happened. Rocky says that Pavitra lied to him. There, Shikha asks Rani how she can trust that she won't attack her after being released. Rani says that Shikha wants something that only she can do in return to free her, so she has to trust her and free her, as she doesn't have any other option. Here, Pavitra says to Rocky that she knows that he is angry that she didn't tell him about Veer's truth before going with him. Pavitra says that whatever happened, happened for good. He reached her when she needed him. She says that she didn't even know that he hung glitter powder on her duppata. She says that he also hid it from her.
Rocky says that both are different and what he did due to his concern for her, but she can't justify her act. He says that she went into the jungle with Maha Pishach, who had already killed many people despite knowing about his truth. Rocky says that he would have blamed himself for all his life, if anything had happened to her. Pavitra says that nothing can harm her when she has her grandfather's protection shield and a protector like her aunt and, most importantly, a good husband like him.
There, Rani asks Shikha to come near the tree. Rani says that once Shikha comes near the tree, the branches will capture Shikha and its hold on her will loosen. She will come out of the tree and then will save Shikha using her power. Shikha goes near the tree. The tree's branches capture Shikha and Rani comes out of the tree. Shikha asks Rani to free her. Rani uses her power and pulls frees Shikha. Rani says to Shikha that she never betrayed anyone and says that she saved her. Shikha reminds Rani that she also saved her and asks Rani to fulfill her promise and give her what she wants. Rani asks what she wants.
Here, Rocky asks Pavitra to promise that there won't be any secrets between them hereafter. Pavitra promises. Rocky says that he will never let anyone harm Pavitra. There, Shikha says to Rani that she wants to see Pavitra's dead body like she saw her love, Veer's dead body. She says that Pavitra killed him. She says that despite being Maha Pishach, he is the first person who touched her heart and showed her beautiful dreams which can never be fulfilled only because of Pavitra. She demands Pavitra's death to avenge Veer's death. Here, Pavitra and Rocky dance romantically and grow close. Vidya and Kanika interrupt their moment. Vidya urges Pavitra and Rocky to come to hear the supernatural story that Nashak will narrate.
Kanika finishes telling a supernatural story. Rocky says that it's late and tries to leave with Pavitra, but Vidya stops them and urges Kanika to tell one more story. Pavitra and Rocky make an excuse and run from there. The next morning, Rocky wakes up and finds Pavitra sleeping placing her head on his chest. Pavitra also wakes up. Pavitra hugs Rocky's arm and asks him to fight with her. Rocky teases her, saying that she always fights. Pavitra and the latter becomes angry. Rocky says that he was joking and agrees with Pavitra that there is no fight hereafter. Meanwhile, Rani is sitting inside the well and doing some puja. She is holding Rocky's mala and it catches fire. She says that her dangerous game will begin now.
The episode ends.
Click to read