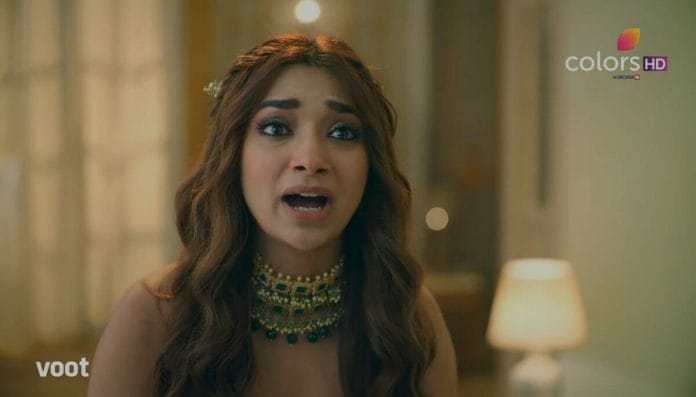 Pishachini Spoilers, Upcoming Story, Latest Gossip , Future Story, Latest News and Upcoming Twist on tellyexpress.com

Colors supernatural show Pishachini is gearing up for more drama with Rani capturing Dadaji's in a photo frame.
Previously, it was seen that Pavitra told Pratik and Amrita that Dadaji got well. Pratik alerted Rani about the same. Unaware that Rani knew the truth, Dadaji tried to escape by moving the wheelchair faster. Rani caught Dadaji in his room.
She asked him what he was hiding from her. As Dadaji refused to answer, she captured him in a photo frame using her magical powers. Later, the Rajputs welcomed Pratik and Amrita inside the house.
Meanwhile, Pavitra received Nikita's call and was shocked to learn that Pratik and Amrita were dead. Just then, Pavitra saw Pratik and Amrita entering the house in their Pishaach avatar and understood that Rani had changed them into Pishaach.
In the upcoming episode, it will be shown that Rocky will notice a strange light coming from the tree on the restricted side of the mansion and will go to see what it is. He will find Maddy there and will notice the watch he will be wearing.
Rocky will question him and will be shocked not to find Maddy the next second. Meanwhile, Pavitra will get suspicious of not being seeing Dadaji since the morning. She will go to his room to see Dadaji. But Pratik and Amrita will say to Pavitra that Dadaji is sleeping and she should not disturb him.
Pavitra will go to see Dadaji when the rest are all busy with the Sangeet ceremony. Rocky will notice in Vikas' photo the same watch that Maddy has. He gets suspicious of Rani. On the other hand, Pavitra will be shocked to not find Dadaji in the room.
She will find him everywhere in the room. She will notice Dadaji's frame blinking and will be shocked. She will realize that Rani captured Dadaji in a photo. She will tell Rocky the same. But he will refuse to believe it.
So, Pavitra will take Rocky in front of Dadaji's photo so that Rocky sees Dadaji blinking his eyes and believes her words. To her shock, Dadaji will arrive there in his wheelchair.
Can Pavitra save Rocky from Pishachini? Can Pavitra win against Pishachini?
Stay tuned to this page for more updates about your favorite Hindi shows.