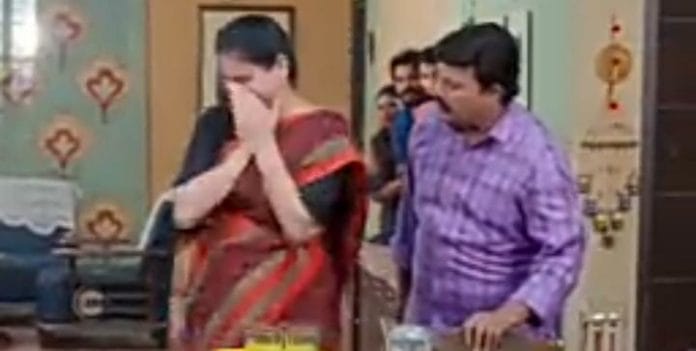 Pudhu Pudhu Arthangal Upcoming Story, Spoilers, Latest Gossip, Future Story, Latest News and Upcoming Twist, on TellyExpress.com
Zee Tamizh Popular Tamil drama Pudhu Pudhu Arthangal is a drama about Lakshmi a widow who lives in the "Sneha Apartment", takes care of her home, and faces all life issues with peace. In an embarrassing situation, Hari tied a knot around Lakshmi's neck.
In the previous episode, Thiruventkam informed Santhosh about Hari's stay and set a condition. The residents argue with Thiruventkam for allowing Hari to live with them. Arjun bailed out Sonia and Prathiba. The residents spoke ill about Hari.
Santhosh decided to do a wedding for Hari and Lakshmi. Lakshmi scolded Santhosh. Pavithra advised Lakshmi. Thiruventkam left home when he refused to accept Hari. Prathiba and Arjun learned about the child. Hari tried to convince Lakshmi of the wedding.
In today's episode, The broker strikes a deal with Prathiba for demanding information about the child. Lakshmi and Hari struggle to express their feelings. Maddy, Pavithra, and Santhosh try to unite Lakshmi and Hari. Hari tries to impress Lakshmi.
Maddy trains Hari to express his feeling to Lakshmi. Santhosh, Pavithra, and Maddy create a situation to express their feeling. Hari tries to express his feeling. Lakshmi teases Hari when he expresses his feeling.
Lakshmi asks for a saree to Hari. Elsewhere, Prathiba bribes the broker and gets the document about the child. Santhosh, Maddy, Hari, Lakshmi, and Pavithra go shopping. Maddy tells Hari to use this opportunity to impress Lakshmi.
Hari selects a sari for Lakshmi. Lakshmi likes the sari. Pavithra takes Lakshmi to the trial room to wear the sari. Hari is mesmerized by Lakshmi's beauty.
Will Lakhsmi reveal the father's name of the child?
Keep checking this space for the latest update on your Zee Tamizh shows.