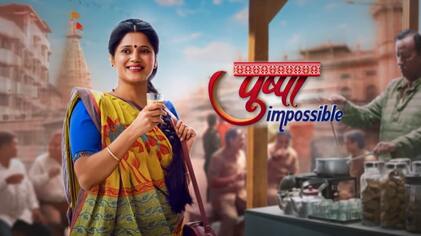 Pushpa Impossible 10th November 2023 Written Update on TellyExpress.com
The episode starts with Susheela telling Bapodara that she will come to Sonal's house on Chirag's bike. Bapodhara leaves. Chirag lightens Susheela's mood. Later everyone arrives at Sonal and Manish's house for dinner. Sonal and Manish welcome everyone.
Sonal and Manish ask Bapodara to sit for dinner. Bapodara refuses to eat dinner with Pushpa's family. He says he will eat by standing. Prathna asks Bapodhara to not insult her family. Bapodara comments on her. Pushpa asks Chirag and Prathna to not spoil their mood. Sonal says she will arrange 4 chairs separately. Pushpa says no need and they place mats on the floor and start eating dinner. Bapodhara eats dinner at the dining table. Susheela and Prathna join Pushpa's family. Bapodara tries to leave but Sonal and Manish stop him.
Later Sonal tells Pushpa and Susheela that she is scared of the 72-hour challenge outcome. Pushpa makes up a plan with Susheela and Sonal to beat up Bapodara in a 72-hour challenge.
Pushpa family family pray to God. Pushpa tells her family what they have to do.
Manish and Sonal wish each other happy Diwali. Pushpa calls Sonal and asks Sonal if they got Namratha's appointment. Sonal says they got it.
Pushpa and Sonal come to meet Namratha. Pushpa apologises to Namratha for disturbing her on Diwali. Namratha says to Pushpa that she already did her work. Namratha says to Sarnayak that there is a problem with the guy Bapodara and says she always gets complaint atleast once a week from the chawl people. Namratha asks Sarnayak to be careful with Bapodara. Sarnayak thanks Namratha for getting this to his attention. Sarnayak later leaves from there.
Susheela and Pushpa talk about their plan. Susheela says their plan is on the right track. Pushpa says now Chirag will come with his media people. Sonal says to Susheela that she has to do main part of the plan. Susheela agrees.
Sarnayak comes to Bapodara chawl and meets Bapodara. Sarnayak says to Bapodara what Namratha said to him. Bapodara assures that all his chawl people are on his side and says to Sarnayak that he can check it out if he wants. Sarnayak agrees and says his party people will come and take voting. Bapodara agrees.
Susheela takes Bapodara to a side and reminds Bapodara that his image is down as he took Tana Bana room from Pushpa and many people in the chawl support Pushpa. Bapodara agrees. Susheela advises Bapodara to go and talk to Pushpa.
Chirag comes with his media friends to the chawl. Bapodara comes to Pushpa and says to Pushpa that Sarnayak party people are going to do voting to see if the chawl people are with him. Bapodara says he knows they will not get her family votes as he took Tana Bana room but he hopes that her friends will vote for him. Pushpa says they will not vote for him.
Episode ends.
Precap – Juggal beats up Hasmukh. Bapodara asks Juggal why is he beating up Hasmukh. Hasmukh says there is an affair going on between Juggal and Pushpa. Bapodara says there will be no smoke without fire.
Click to read