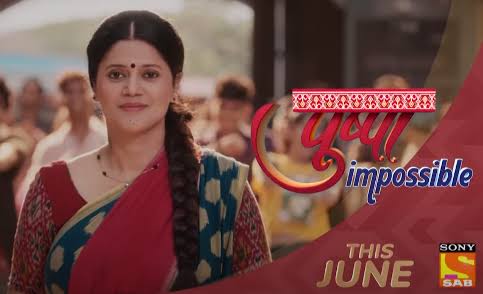 Pushpa Impossible 22nd September 2022 Written Update on TellyExpress.com
The episode starts with Pushpa seeing Rashi preparing something and asks about it. Rashi says that she's working on the parents adoption projects and is getting people's opinion regarding the same. She says she first wants to know parents opinion whether they would like to get adopted if they were left alone. Pushpa thinks that Kaku is also staying away from her son and his family and wonders the reason for it. Pushpa is playing snakes and ladder with Golu when Mahendra joins her. He asks what's she doing when Pushpa says that she couldn't spend time with Golu due to get hectic study schedule and so is trying to spend time with him now. She also said says that her children are cooking for her giving her day off. Mahendra calls her lucky for having such affectionate children.
Rashi, Ashwin and Chirag mess up the kitchen as they cook for Pushpa. Chirag pulls the floor box upon himself and Rashi and Ashwin laughs at him. They asks him to go and bring their mother while they would set the table. Chirag goes to call Pushpa who's with Mahendra. Pushpa is stunned seeing him drenched with floor and laughs at it. She invites Mahendra to have food too but Mahendra says Golu craved for Dosa and he's going to enjoy the same. Pushpa gets shocked seeing her kitchen's condition and lashes out at her children. They ask her not to worry as they would clean it up and drags her to dining table.
Pushpa sits down while they serve the food to her. She have a bite of it and recalls Dileep throwing her food away for being salty and also chunkier down that food in her throat as punishment. When asked about the taste Pushpa says its great. They also taste it and immediately pukes with the terrible taste. They asks how could she have it as its not edible at all and is very bitter. Pushpa says more than the taste the efforts and the intentions matter and gives a tip to get rid of the tip. She asks them to have some too. Ashwin gets Sonal's call who seems very angry and asks him to rush there immediately. Ashwin says the same to Pushpa. Pushpa asks him identify them ad mother and father just like Deepti does with her. Ashwin says he will try and she asks him to go having food.
Chirag brings the food cooked by the trip to Munna and Prarthana. They taste it but doesn't believe that he made it himself. Bapodhara comes there and Pushpa immediately hides. Bapodhara looks at the sketches and asks about it to Chirag. Chirag lies that it's by Chirag Gokhale and Bapodhara buys one with a high price only for Gokhale's name only. Chirag shares the money with his partner Prarthana and they rejoice. Ashwin meets with angry Sonal, Manish and Deepti.
Precap : Pushpa will say Kaku that her results will be out the next day while Kali will wish her good luck. Teacher will call out Pushpa to give out her results.
Click to read