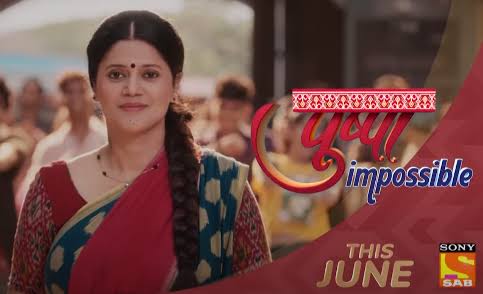 Pushpa Impossible 27th October 2022 Written Update on TellyExpress.com
The episode starts with Varsha requesting Pushpa to speak with Kaku. Pushpa goes in to speak. Kaku appreciates Pushpa for bringing back Neelima. Pushpa says that they are going to Manish's house for Diwali celebration. Pushpa remembers Kaku to help Pranav and Varsha to resolve their differences and asks her to think about the children. Kaku says that she left the responsibilities with so much difficulty and is scared to take it up again. Pushpa convinces her to think about the children. Varsha who's listening to their talk thanks Pushpa in mind who made her job easy.
Pushpa and family gets welcomed by Manish and family. They show her the jewel they bought for Deepti and everyone praises it. Varsha asks Kaku where she's going and Kaku says that she's going to Ashavari's house to give gift. Varsha herself offers to give the gift herself and takes it with her. She finds Varsha's phone ringing and attends it. Mithali speaks with her thinking it to be her mother. She says that she's celebrating Diwali in hostel and so is Adhik and cuts the call. Kaku gets doubtful and notes the number. Manish asks Chirag why's he upset. Pushpa says about Prarthana's issue and Manish calls Bapodhara vile. He says that they must do something. He calls someone called Mr. Prathap who is for women's right and explains the situation to him. They all gets happy.
Pushpa's kids surprise her with gift boxes for neighbors to wish them for Diwali. Pushpa first goes to Bapodhara's house who's with guests. He couldn't help but act cordial before them. Chirag and Ashwin also comes there and takes his and Susheela's blessing. Bapodhara doesn't leave a chance to taunt Chirag. Pushpa comes home and finds Deepti. She gets Nanavati's call who wishes her and her family for new year. They all wish him back. Nanavati says that the organizers refused to change the date. Pushpa says that she can't help then as she can't miss Ashwin's wedding. He agrees to speak with the head once and cuts the call. Deepti says it's a big opportunity but nothing is more valuable than Ahwin's wedding to her.
Varsha happily flaunts to Pranav about able to fool Kaku easily but Pranav asks her not to underestimate Kaku. Mithali calls her again and says about speaking with her last night. Varsha gets scared that whether Kaku attended the call. They thinka bout what to do. Kaku shres with Pushpa bout Varsha giving wrong to her while Mithali called her with other number. Pushpa suspects that she have two sim cards but Kaku says that Mithali is in hostel and not at home as said by Varsha.

Precap : Pushpa shows the money in cupboard to Neelima who gets shocked seeing so much money. They find a note addressing to Sethji that it's all given by him. Pushpa and Neelima will visit the hospital and Nurse will say about Bapodhara visiting Ramesha is his friend. They both will get confused.
Click to read