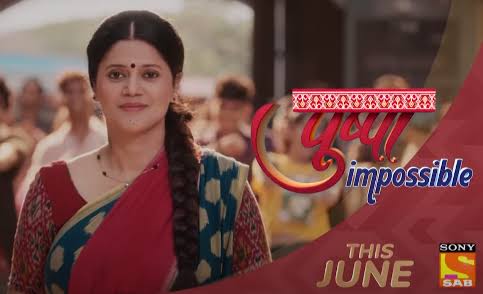 Pushpa Impossible 8th August 2022 Written Update on TellyExpress.com
The episode starts with Deepti worried about Ashwin and Ashwin says he's going to say the enquiry about whatever the truth is and the rest in their hands. Ashwin goes to the enquiry meeting and argues for himself. However Mrs. Roy and others left angrily despite hearing Ashwin's arguments. Deepti comes inside and asks what happened for which Ashwin says he got suspended. Deepti gets shocked for which Ashwin says that they can't do anything about things which is not in their hands. He asks about court judgement and Deepti says court asked them to vacate the house. Ashwin gets disheartened. He pleads Deepti to not say about his suspension to Pushpa who's already distressed.
Bapodhara gets the court notice and decides to mock Pushpa with it. Everyone is present at Pushpa's place while Bapodhara pastes the notice and mocks Pushpa. Ashwin comes there and Bapodhara asks him to read the notice too. Pushpa says Bapodhara that nothing can so easily separate her from her house for which Bapodhara says that if he wants he can beat her and throw her out of the house. Ashwin got extremely angry hearing it and holds Bapodhara's collar for speaking in such way with his mother. Baskar reminds him that it's the court notice and Ashwin holds himself. Bapodhara goes out asking them to vacate soon. Sonal calls Deepti to ask about the case and Deepti says about the deep trouble Ashwin is in. Radha Kaku argues with Bapodhara so does everyone and all were ready to take Pushpa in their house. Bapodhara warns them that the house still belongs to him and blames Kaku's slap for him punishing Pushpa.
Bapodhara watches as Pushpa packs her stuffs. Everyone were standing in front of him pleading him but Bapodhara paid no heed. Pushpa takes the things out and hugs Golu who asks them to not leave the place. Pushpa hugs him and says that the house is not equivalent to the love she has on them. Pushpa gives the keys to Bapodhara saying that she gave the house to him. She taunts Bapodhara and says that he may be the owner of the house but the house is filled with her memories. She says that nothing can separate her from the house which is connected emotionally to her.
She asks him to look at everyone's eyes to find the hatred for him and says that he might have thought he won but in reality he just lost by falling low. Sonal is stunned with the amount of tests Pushpa has been put through and felt bad for her. She's worried for Pushpa and her family. Manish also couldn't believe that Ashwin could bribe someone and Deepti says that it's surely framed. Manish says he would take care of it when Deepti gets Ashwin's message where they are standing outside with their things.
Precap : Bapodhara will bring goons and will ask them to throw Pushpa's stuff out of the Chawl. Everyone will get shocked seeing his atrocities.
Click to read