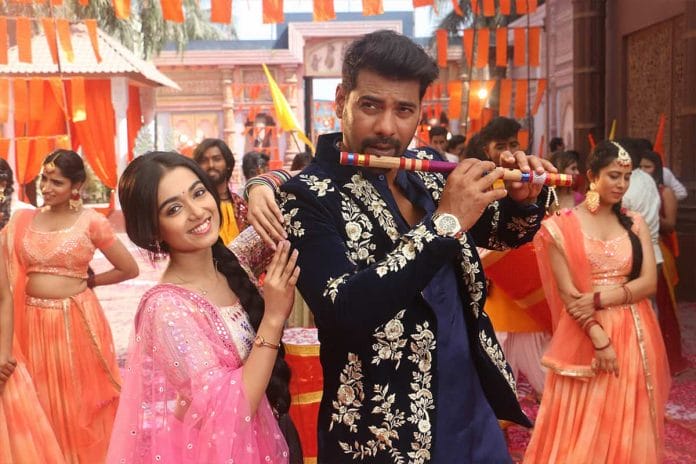 Pyar Ka Pehla Naam Radha Mohan 14th January 2023 Written Update on TellyExpress.com
Episode begins with Radha tells Damini that the latter must be in shock seeing her alive. She says that she is not alone. She claims that the person who cares about this family saved her from Damini's goons. Kadambari murmurs to Radha that she know the latter talked to Tulsi's spirit and asks her to not tell anyone about Tulsi's spirit. Damini gets scared thinking that what if Tulsi's spirit told the whole truth to Radha. She tells Kaveri that Radha looks confident because Tulsi's spirit is helping Radha. Ketki asks Radha that the latter is talking about whom. Tulsi's spirit asks Radha to not tell them about her.
Radha says that she has God support and God saved her from Damini's goons. She adds that even God don't want this marriage to happen. She tells Mohan to not marry Damini. Mohan tells her that this marriage will happen. She tells him that she won't let this marriage happen. Dadi asks her that who is the latter to stop this marriage. She reminds her that they throw her out of the house even though the latter did so much for them. She says that they don't care about Radha at all. Radha tells her that Mohan's matters affects her. She says that she is Mohan's Radha and she can't see him sad. Mohan thinks that he can't see Radha getting insulted so she should leave.
Rameshwar pleads Radha to go with him. Radha tells him that she know he can't see her sad. She says that it's time to get her rights. Ketki appreciates Radha. Damini tells Radha that the latter don't have any rights on this family members. Radha tells Mohan that he did not see her yet and it's time for him to see her and the truth. She turns him around.
Mohan notices her lehenga and he realises that she is wearing Tulsi's lehenga. He gets angry at her for wearing Tulsi's lehenga. He asks her that why she is wearing Tulsi's lehenga. He asks her that if she thought he will marry her seeing her in Tulsi's lehenga. He says that Tulsi is betrayer who left him and made him enemy to his daughter. He informs her that Tulsi never loved him and cared about him and she was selfish. He tells her that she is also selfish and betrayer like Tulsi. He says that Radha pretends like caring about him like Tulsi pretended.
Damini tells Mohan that Radha is thief too. She asks him to ignore Radha because Radha is habituated to create drama. She tells him that they should get married on muhurat time and holds his hand. Radha pushes her hand away. Damini asks Mohan that how long they have to postpone their marriage due to Radha. Radha asks her to stop it. Mohan asks Radha to stop it. He tells her that she don't love him but she is infatuated towards him. She tells him that she is not immature to not understand her love. She says that she is fighting for this family not for her love. She adds that she will do what she want to do.
Episode ends.
Also See: