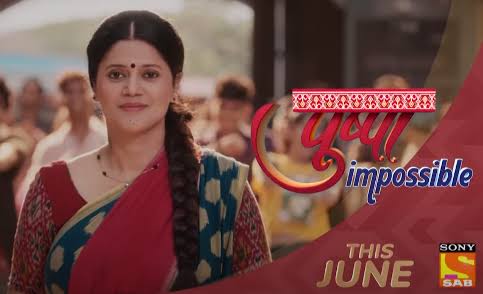 Pushpa Impossible 13th January 2023 Written Update on TellyExpress.com
The episode starts with Pushpa sharing with Deepti that she heard Dharam's voice which is very much identical to Dileep's voice. She feels he's somewhere near. Deepti tries brushing it off when she shares about DCP Tejaswi's visit and Deepti wonders why. Pushpa says she doesn't know the reason. Pushpa asks Deepti to keep it a secret from others and shares her worry. Deepti assures that there is nothing wrong going to happen but they need to find the reason for DCP Tejaswi's visit. She asks her to prepare for her prelims. Deepti visits Nanavati and Nanavati asks the reason for her visit. Deepti shares about Pushpa's worry about her injured hand. Deepti asks whether Pushpa could get a substitute writer to write the exams as she dictates it. Nanavati says that he already has the plan in mind and says he will speak with trustees about it. Deepti thanks him for his consideration.
Chirag meets with Prarthana who's still angry with him and explains his situation for his behavior. Mansi wants to leave to meet Doctor but didn't have anyone to take care of Dharam in her absence. Ashwin comes there to get her sign and Mansi leaves him with Dharam to take care of him. Ashwin pleads Mansi to reconsider the redevelopment project but Mansi is very much angry at Bapodhara. She agrees to consider it for the sake of Ashwin and leaves. Ashwin waits outside when Dharam comes out of washroom. He feels dizzy and faints when Ashwin rushes to him. Deepti meets Rashi and says about Nanavati considering a 9th standard student who could have a good rapport with Pushpa . she shares the same with Saran when Pushpa comes there. Aryan takes her with him to taste his food and vice versa. They think that she got her writer. Ashwin helps Dharam by lifting him and gets socked seeing his face. Mansi comes there and Ashwin takes his leave stunned. He recalls Dileep's abuses when Mansi that thanks him for helping Dharam again and again. Ashwin leaves saying that he's not well and Mansi finds it weird. Prathama consoles Chirag that it can't be Dileep and just his lookalike.
Ashwin is thinking about Dharam when Deepti get the good news that Aryan is chosen to be Pushpa's writer in exam. She shares it with others and they rejoice the news. Rashi plays the song and they all have fun when Ashwin doubts Chirag to known the truth too. DCP visits Pushpa asking her to come with her to identify someone whom they suspect to Dileep. Pushpa refuses to believe that Dileep is alive and acts hysteric towards DCP. She breakdown and DCP understands her pain. Ashwin questions Chirag about Dharam who says what happened. Ashwin asks why didn't he share with anyone about it when Chirag says about the fingerprint mismatch. Pushpa runs away when DC still insists to come with her. Deepti asks a day time to convince Pushpa and DCP leaves agreeing. Chirag asks about Dileep to Ashwin.
Precap : Bapodhara will say Chirag that why police keeps visiting their house these days. He will ask if his father's true face came out. Chirag will say Ashwin that just like they hid about Dharam from mother Pushpa also hid about DCP visiting her. Pushpa will come there at the same time.
Click to read