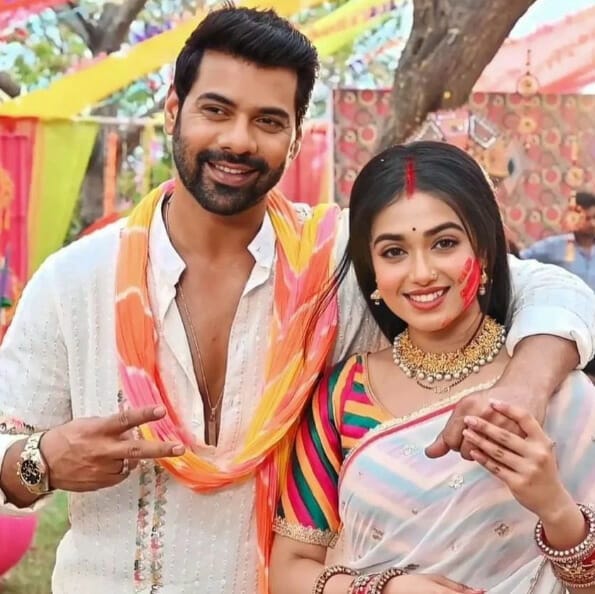 Pyar Ka Pehla Naam Radha Mohan 18th November 2023 Written Update on TellyExpress.com
Episode begins with Damini tells passengers that there is a possibility that Radha and Kadambari are with Terrorists. Kadambari asks her to stop it. Passengers believes Damini. One of the passenger strangulates Kadambari. Radha and Mohan asks that passenger to leave Kadambari. Terrorist asks them to stop their drama and sit in their seats. Mr. X tells him that it's easy to make them fight.
Trivedis tells Kavita about mission happy diwali. Kavita asks them that what is Terrorists plan. Rahul tells her that Terrorists will blast the flight. He says that he saw the bomb too. Kavita says that passengers has no idea about bomb. She wonders if Terrorists has master plan. She asks herself how they are going to find out Terrorists plan. Officer tells Kavita that Terrorists did not communicate with anyone so other country is not involved. Kavita says that the lady she talked to had foreign accent and she was not in hurry. She adds that they have to know what is Terrorists plan.
Mohan tells Radha that Terrorists using religion. He wonders if Terrorists has any other plan too. He tells Radha that Terrorists wants them to fight with each other. He says that Terrorists won't let the flight land and they will blast the flight. Radha gets scared hearing him. He tells Radha that they can't lose hope and they have to fight.
Terrorist tells Mr. X that Damini will be helpful for them. Bunty asks Mr. X about final plan and will they be safe. Mr. X tells him that her team life is important. She thinks that everyone has to die for her goal including herself.
Kavita tells them that flight is roaming around Delhi and blast happened then it will become national crises. She says that she is not understanding how to stop Terrorists. Ketki asks Kavita that if they can't save her family. Kavita tells them that she need their help too. Ketki asks her that how can they help them. Kavita asks them to tell about their family members capabilities.
Bunty tells Terrorist that he is feeling sleepy. He asks him to keep an eye on Damini and goes to sleep. Mr. X falls asleep. Radha tells Mohan that passengers has no idea about bomb. Mohan tells her that no one should know about bomb. She tells him that they have to save everyone no matter what. He tells her that he won't hesitate to sacrifice his life to save others. She asks him to not say like that. She says that they will die together. Damini tries to hear what they are talking about. She wonders why they are talking about death.
News reporters reports about flight hijack. They also reports that how Radha saved Gungun and others life. Kavita watches this. She tells Trivedis that Radha and Mohan saved students. She says that Radha and Mohan are smart people so they will execute their rescue mission.
Episode ends.
Also See: