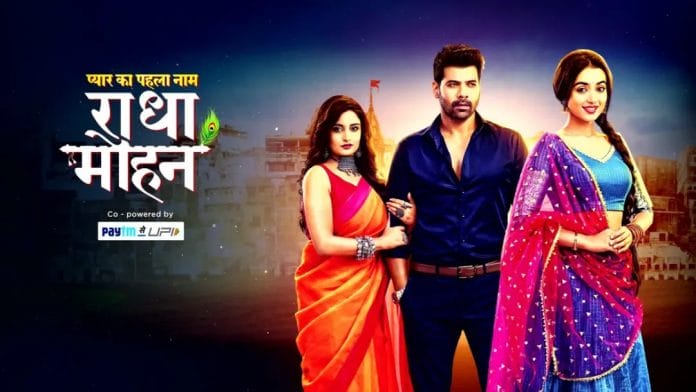 Pyar Ka Pehla Naam Radha Mohan 22nd November 2023 Written Update on TellyExpress.com
Episode begins with Mohan tells Radha to leave Lord Krishna's idol. Radha asks him that how can she do that. She says that she is ready to sacrifice her life because Lord Krishna gave this birth to her and supported her always. He tells her that Lord Krishna lives in her heart and that's enough. She tells him that she can't let anything happen to Lord Krishna's idol. Damini thinks that she don't want Radha to leave her stubbornness. Bunty tells Radha that he will kill Gungun. Danny snatches the Lord Krishna's idol from Radha.
On the other hand, Kaveri cries. Ketki goes to Kaveri and tells her that everything will be fine. Kaveri cries hugging Ketki. She says that she will die if anything happened to Damini then. She tells her that the latter know she has no one except Damini. She apologizes to her and asks her to pray for Damini. Ketki asks her to not cry because nothing will happen to Damini.
Rahul tells Kaveri that they don't care Damini dies or lives. He asks Ketki to not worry about Kaveri. He reminds her that what all Kaveri did with them. Ketki tells him that right now Kaveri is a mother who need support. Vishwanath tells Rahul that mother feeling is like that. Rahul says that Kaveri tried to kill Gungun. Kaveri apologizes to him. He scolds her. Ketki gives water to Kaveri. Ajeet tells himself that he don't want to talk to Kaveri. Kaveri asks God to listen her prayer.
Maulana tells Danny to stop it. He tells him that their religion tells them to respect every religion. He talks about Quran quote. Danny and others looks confused. Radha notices their expressions and understands that they are not Muslim. Maulana tells Terrorist that they are committing sin and Allah won't forgive them. Bunty scolds him for supporting a hindi. Maulana tells him that he is supporting the humanity.
Mr. X tells Maulana to sit silently. She warns passengers to not do anything. She reveals that she will break Lord Krishna's idol in front of Radha. Danny starts live streaming in satellite phone on Mr. X behest.
Kavita tells Harsh to block the signal of live streaming. Officer stops Kavita. He says that Terrorists may vent out their anger on passengers if they stopped the live streaming then.
Live streaming begins. She says that she won't kill Radha and she is going to kill Radha's God. Public watches breaking news. Tulsi also watches it. Mr. X aims to shot Lord Krishna's idol. Radha tells them that they don't have any religion. She says that Mr. X won't achieve anything by breaking Lord Krishna's idol. She says that they worships moon, sun and trees. She adds that God lives everywhere she tells Mx. X that the latter can't destroy the universe.
Mr. X thinks that Radha foiled her plan. She tells Danny to stop the live streaming. Public says that Radha gave befitting reply to Terrorists. Tulsi hope that Radha don't end up in new problem. Kavita understands the real motive of Terrorists. She tells herself Radha foiled Terrorists plan.
Episode ends.
Also See: