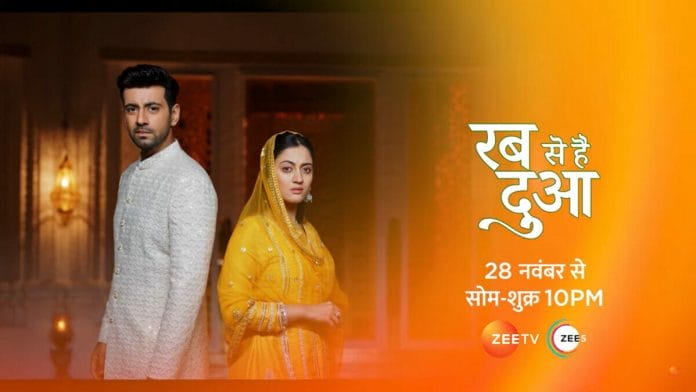 Rabb Se Hai Dua 13th January 2023 Written Update on TellyExpress.com
Episode starts with Haider getting romantic with Dua while she was serving food to him. Gazal feels jealous of them and keeps staring at them. She tries to walk away from there but Ruhaan stops her and ask her to finish her food. She sits down and keeps looking at Dua and Haider. She then intentionally breaks the glass by dropping it, in order to grab their attention towards her. They all gets shocked hearing the sound and looks at her, while she apologises for it. Haider then ask Gazal about her health, to which she assures that she is fine.
Here, Gazal tells that she is grateful of Haider for saving her life and says that due to him only she is fine. She shows her gratitude towards him while he nods towards her. Meanwhile, Dua ask Gazal about something but the latter keep staring at Haider. She ignores Dua while Haider grabs Gazal's attention and ask her to reply to Dua.
Dadi gets furious at Gazal and glares at her. Whereas, the latter says that she will go to the office along with Haider. But, he denies stating that the office is going through repair and there isn't any work going on. He ask her to rest while Dua says that she have a lot of things to talk to Gazal and ask her to be with her.
Elsewhere, Dua prays for Haider while Gazal feels envy seeing them together. He leaves from there while Dadi ask Dua to come along with her as she wants to talk to her about something in private. Gulnaaz and Gazal looks at them and becomes suspicious. Meanwhile, Hina reads the newspaper and gets shocked upon finding an article about Gazal's mother.
Hina gets dumbstruck and starts shouting. She gets a panic attack while Gazal immediately comes to her room. She tries to control her while she ask her to look at the newspaper. She sees the article and becomes shocked. She takes the page along with herself, while Dua and others also comes inside Hina's room and tries to comfort her.
Ahead, Dua ask Hina to calm down while Dadi stops her from making a scene. They sees the newspaper but doesn't find anything related to the matter. Dadi sends Gazal out of the room and ask her to stay away from the family matter. She says that they can handle the situation and sends her away. Meanwhile, Gazal reads the article about her mother's death and breaks down stating that why her father hided the truth?
Gazal and Raahat tries to calm Hina while she keeps crying. Dadi ask Dua to throw Gazal out of the house as if she learns about the secret then it will be a problem to them. Raahat agrees to his mother and ask Dua to do as per her instructions. The latter denies to follow it and says that they are the reason behind Gazal's loss and they should have to look after her.
Further, Gazal hears their conversation and gets shocked. She cries that even Dua betrayed her and goes back to her room. She gets emotional upon seeing her father's belonging and thinks that Haider brought it. At that time Gulnaaz comes there and tells that she has done it. She ask the latter to find the secret while Gazal lashes out at her and says that she is only playing some games with her. She confronts Gulnaaz while the latter gets silent. Whereas, Dua sees the printer and gets suspicious about the news matter.
The episode ends.
Episode starts with Dua looking after Hina and assures Haider that everything will be fine. She sends him inside their room stating that she will stay with Hina and will look after her. He denies proclaiming that he wants to be with his mother, but she tells that he also needs rest and somehow convinces him to go back to their room. He finally agrees and goes to his room in order to sleep. Whereas, Gazal follows him and keeps recalling their moments. She says to herself that she can't be able to control her feelings towards him, while Gulnaaz also comes there and smirks hearing her confession.
Here, Gulnaaz decides to use Gazal to create rift in between Haider and Dua. She thanks God for giving her the opportunity to break their relationship and proclaims to teach a lesson to Hina. She recalls how Hina snatched her son Ruhaan from her. She gets flashes of the time when Ruhaan goes against her and says that he is son of both Hina and Gulnaaz and states that Hina matter to him more then his mother.
Also Check: