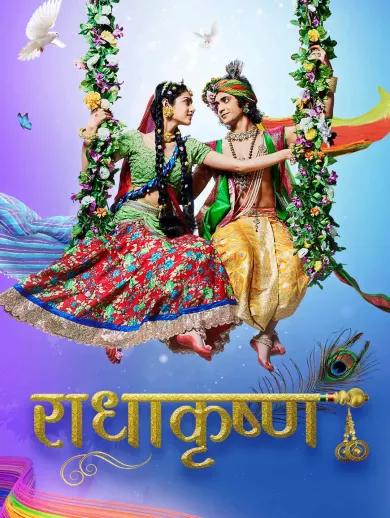 RadhaKrishnn 13th August 2020 Written Update on TellyExpress.com
Episode begins with Duryodhan says to Shakuni if my brothers, Pandavas are back then I will never be able to be the king of Hastinapur. Arjun halts the cart and decided to take some rest before proceeding further. Krishna says we will not stop here we will stop at that spot where I said you people do and will take some rest but for that there is no reason to to halt for some time. Radha is preparing for Janmashtami when Ayan says it seems like you have lost control over your senses and thinking abilities. It is a habit.

if he leaves a place he never goes back to that area again. Radha sayKrishna is a very busy person and he is for everybody in this universe then he has to roam around the world. He says you seemed to have lost control over your mind completely and all I can say is you can prepare butter but he will not come to have it. At last the butter will come back to me and he left from there. Radha smiles and thinks she completely believes in the fact that Krishna will visit her today at any cost. Krishna is coming towards the place where Radha is and he is also excited to meet her. At a point Krishna ask Arjun to stop the cart and we ask all of them to take some rest while he will complete some of his personal important work.
Arjun asks Krishna about his upcoming learning but he says just keep calm and take action as per the situation. He shows Arjun that there are lots of army people who are waiting with the lightning channel in hand for them so that they can delayed their entry at Hastinapur. Shakuni advises Duryodhan to create a scene inside the palace so that Dhritarashtra and Gandhari are compelled to give him what he wants. Duryodhan pulls a drama of committing suicide in front of his parents so that they agree for his demand to get appointed as the future emperor of this state.
Dhritarashtra gets weak in front of the manipulation game of Shakuni and Duryodhan. Krishna comes to meet Radha and she feeds him handmade butter and also asked him to sit on the swing on the occasion of his birthday. Shakuni and Duryodhan are forcing to do the rituals to appoint as the possible emperor by tonight. Krishna ask Radha to play the flute for tonight as it is his birthday and says that it will help the people who believe in love and will make them sleep who is only on the path of violence and hatred. At the end Krishna comes back to Pandavas and asks them to restart the journey all over again. Arjun notices all the armies of Duryodhan and they are all sleeping due to the tune of Radha.
Precap – Krishna stops Shakuni while Duryodhan and Arjun gets into tiff.