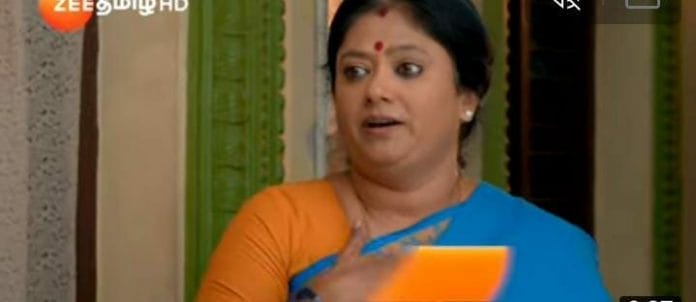 Rajini Upcoming Story, Spoilers, Latest Gossip, Future Story, Latest News and Upcoming Twist, on TellyExpress.com
Zee Tamil popular show Rajini has unique story line. This show is about Rajini's selfless sacrifice for her family. Now serial focusing on Rajini is in tight spot
In the previous episode we saw; Rajini tried to explain Parthiban about her situation but he left from there. Radhika enjoyed the news. Shankari asked Radhika to reveal her pregnancy news with Aravind. Radhika shared with Aravind that she was expecting. Aravind refused to believe her.
Radhika asked him to take the test if he doubt her. Aravind cleared with her that he doesn't care about her pregnancy. If she wished to keep the baby with her just do it or else give it to him. But he won't accept her back in his life for anyone.
Later, Rajini shared her situation with Parthiban. He forgave her. Radhika and Shankari demanded Padma to leave the house. Rajini promised her to give her rights. Later, Parthiban gave promise to Ranjitham unaware of Rajini's promise to Padma
In the upcoming episode viewers will see; Ranjitham will get ready for the function. Radhika will try to provoke her against Rajini. Ranjitham will give a fitting reply to her. Kuberan will ask Padma to give up for Rajini happiness. But she is adamant in her decision.
Later, Anitha will bring her parents there. Radhika will ignore them which hurts their ego. Kuberan will welcome them inside. Parthiban and Rajini will exchange their garland. Both Ranjitham and Padma will attend the function. Rajini and Parthiban will stare them hesitated.
What will happen next? Will Parthiban family accept Rajini as their daughter in law?
When will Anitha understand Rajini?
Upcoming episode will answer to our all questions stay tune with our space for more updates