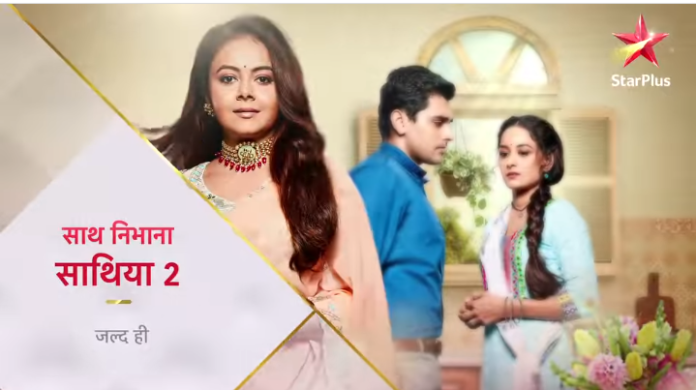 Saath Nibhaana Saathiya 2 13th January 2021 Written Update on TellyExpress.com
Episode begins with Gehna checks microwave and says still time left to take the cake out and does other works. Kanak tells Hema that kids should not go near kitchen. Pankaj says her plan is perfect. She says with microwave blast , Anant will lose his mind too worrying about safety of family members then no one will support her in this family. Hema breaks the glass.
Pankaj calls Gehna to clean the floor. Kanak says she is waiting to hear microwave blast sound and also excited to witness the pissed off Anant. Radhika plans a romantic surprise for Anant's birthday and waits for him saying her gift will surprise him for sure. Anant gets surprised seeing Radhika and the decorations. He asks what's happened here and says he just came to meet her.
She makes him sit and asks how is she looking today. He stands and moves aside. She hugs him from behind. He breaks the hug and asks what is she doing. She says it's her gift for his birthday and says they will celebrate together like they used to celebrate his birthday every year. He says this year is different from last year. Gehna was cleaning the floor. Hema tells Kanak that this is her real place. Gehna stops Paresh from stepping on glasses.
Tiya tells Piyush to not disturb her saying she has to complete the decorations on time. He says he is hungry. She tells him to ask food to Gehna because she is busy. He says Gehna also busy and asks her to give food. Jamuna who came there hears their conversation and takes him with her saying she will give him food. Paresh says seems like Kanak and her allies has lot of free time even though still there is so much work needs to be done before Anant comes. Hema says they came to refresh. He taunts them then leaves from there. Kanak says Jamuna should witness the blast.
Pankaj says hearing blast sound she will come for sure. Tiya calls Anant to know about his whereabouts but Radhika doesn't let him attend the call. He says he thought she and his family will understand his situation and asks why she is doing all this. He says he married Gehna so he can't betray her. She asks then what about her. He says he came here to apologize to her.
She asks does he ever loved her. He says he loved her only and Gehna is just his responsibility and it's the truth of his life. She says he is her life and she can't give him to Gehna then hugs him. He breaks the hug and apologize to her then returns the gifts she gave him and leaves from there. She cries recalling his proposal. Jamuna was making chocolate milk for Piyush in kitchen. Gehna goes to the kitchen to see cake and realises that microwave going to blast then everyone hears blast sound.
Episode ends.
Precap – Kanak says if Gehna doesn't know to use microwave then why she used it. Anant too yells at Gehna.
Click to read: