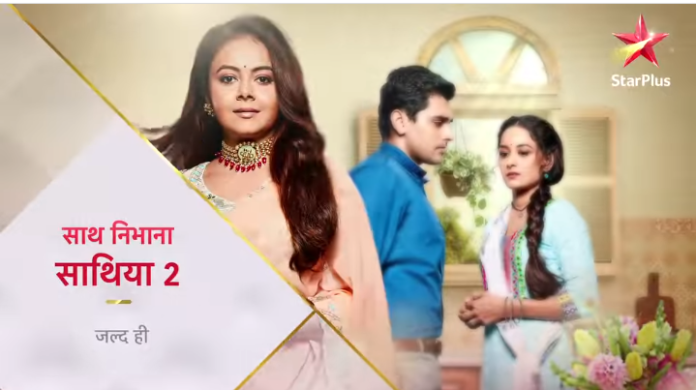 Saath Nibhaana Saathiya 2 14th January 2021 Written Update on TellyExpress.com
Episode begins with Jamuna gets injured because of the microwave blast. Gehna shocks seeing her condition. Everyone comes to kitchen hearing blast sound and shocks seeing Jamuna laying on the floor unconscious. Kanak sees Piyush in the kitchen and thinks her plan flopped because of Gehna. Praful asks how it happened. Kanak says he should ask Gehna and takes the metal plate from microwave and blames Gehna. Hiral's husband takes Jamuna to hall. Kanak scolds Gehna.
Anant gets worried seeing Jamuna's condition and asks how it happened. Kanak says if Gehna doesn't know to use microwave then why she used it. Hema cries hugging Piyush and says what if anything happened to him then. Anant yells at Gehna and asks why she used microwave when she doesn't know anything about it. She says she put right plate only.
Tiya tries to say something but he doesn't let her speak. He says he forgave her last time thinking she is naive so doesn't know anything but now she put everyone's life in danger and says Jamuna was right about her that
Gehna runs from there. Anant says they should take Jamuna to hospital but Hiral's husband calm him saying she is fine now. Gehna was keep blaming herself for Jamuna's injury and Tiya consoles her. She says she doesn't know anything and says she is not capable to Anant and cries hugging her.
Praful takes Jamuna to his room. Paresh tells Anant that Gehna is not the person who put anyone's life in danger knowingly and says he thinks he said so many things to her in anger. Anant leaves from there without saying anything. Kanak says she showed her place to Gehna and she become zero from hero. Hema says Gehna can't face anyone after this. Kanak says Gehna has to stay in outhouse only. Gehna recalls the accident and how Anant yelled at her.
Praful, Paresh and Tiya wishes Anant. Anant takes blessings from Paresh and Praful. He asks about Jamuna. Praful says she is taking rest after having medicine. Paresh takes stand for Gehna and makes Anant realise that he did wrong with her. Anant gets surprised seeing Radhika with sorry card and says everything changed between them and asks what is she doing here.
She says she came to apologize to Gehna because she did nothing wrong. Anant leaves from there. Praful asks how is she. Radhika says she is fine. She greets Kanak and Hema then asks about Gehna. Kanak tells her about microwave blast and says Gehna is in the outhouse now.
Radhika goes to meet Jamuna. Hema says one by one good thing happening and birthday party drama is yet to happen. Gehna prays for Anant's happiness and thinks to apologize to him. Jamuna says she is feeling good seeing Radhika. Paresh tells Gehna to make cake again. Radhika tells Jamuna that she will make cake for Anant. Both Gehna and Radhika makes cake for Anant.
Episode ends.
Precap – Anant's birthday party.
Click to read: