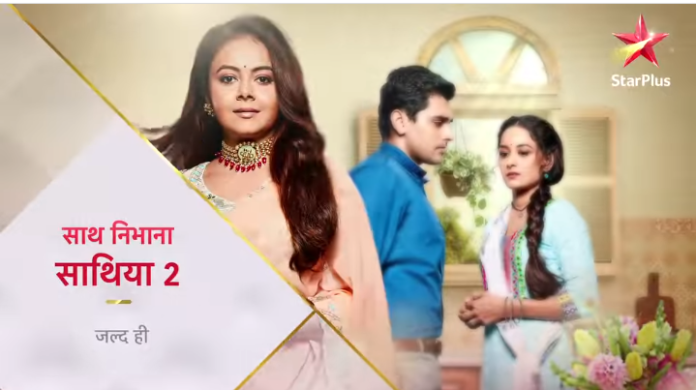 Saath Nibhaana Saathiya 2 16th January 2021 Written Update on TellyExpress.com
Episode begins with Radhika asks Anant to say whom he loves most. Hema tells Kanak that Anant never lies so he will take Radhika's name for sure. Gehna thinks she knows that he loves Radhika more than anyone. Anant says he loves Jamuna. Paresh praises him and Jamuna smiles. He says enough of game and asks them to eat because he is hungry. Kanak says Gehna took Radhika's place but soon Radhika will get her place.
Radhika says she wants something from Gehna and asks her to return Anant then changes the topic saying she doesn't regret for whatever she said to him on their marriage day but she knows that Gehna did nothing wrong in all this and apologize to her for everything she said to her and says she didn't forget that she saved her life so she won't backoff if she needs her then and will fulfil her promise. She says everything changed but she will support her and forwards her hand for handshake. Anant who came there sees them together. Kanak, Hema gets surprised seeing them like that. Radhika thanks Gehna for accepting her as her friend and hugs her. Kanak says they are flopping her plan by becoming friends.
Gehna tells Champa, Chameli that Anant is really good person because he forgave her for kitchen accident even though it was such a big mistake and also cut her cake. She says Radhika also good person because so much happened between them still she wanted her friendship. She says she feels like everything will be fine soon and everyone giving love and respect to her so she will take care of their happiness. Radhika was about to leave but Kanak stops her saying she should not leave alone at this time. Jamuna too agrees with her and tells Radhika to stay in guestroom today. Radhika apologize to Praful for her previous mistakes.
Praful asks Tiya to take Radhika to guestroom. Kanak says Radhika will enter Anant's life soon the way she entered in this house today. Anant unwraps Radhika's gift. She asks did he liked her gift. He yells at her saying he is not her Anant anymore and their relationship changed and asks her to not expect anything and tells her to leave from there. She says she won't leave and Gehna should leave from his life because she doesn't deserve him.
He asks if she expects him to break this marriage and the promise he made to Praful then he can't do that. She asks what he would have done if he was in her place now. She says he doesn't have any answer for this and tells him to not stop her. Anant cries recalling everything and apologize to Radhika saying he can't accept her so he wants her to move on in her life. Jamuna says she will make Anant's breakfast. Gehna was about to fall but Jamuna saves her. Kanak sees that and says Gehna can't become daughter in law of this house.
Episode ends.
Precap – Gehna accepts to participate in dance competition as a daughter in law of Desai family.
Click to read: