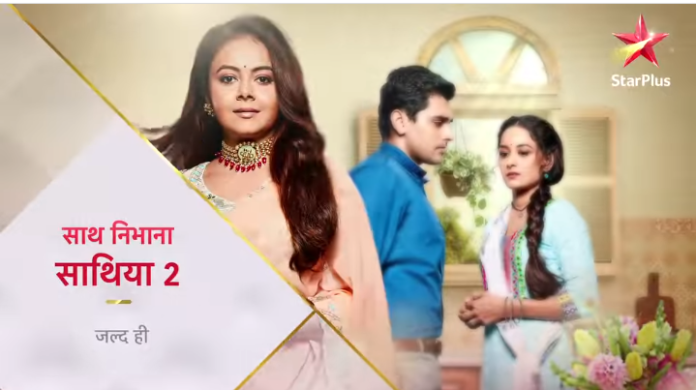 Saath Nibhaana Saathiya 2 19th January 2021 Written Update on TellyExpress.com
Episode begins with Radhika says her parents returned to Singapore for emergency and yesterday thief came into her house, she can stay somewhere else also but she doesn't know anyone else in this city other than them that's why she came here and asks Praful to give permission to stay here if he doesn't has any problem then. Jamuna says Radhika need not to to ask anyone's permission because it's her house too and she can stay here. Radhika thanks her.
Kanak thinks Radhika's entry will benefit her and Gehna will lose against her. She informs Radhika about Saraswati puja and says Anant brought gifts for everyone and gives one parcel to her saying it's the last one. Radhika thanks her and says she liked this saree. Anant says he brought this saree for Gehna. Radhika says she can't take Gehna's saree and gives it to her. Gehna says if Radhika liked the saree then she can keep it with her. Kanak tells Radhika to take rest and she will call her for dinner.
Anant asks about Jamuna. Praful says Jamuna denied to come saying she won't eat Gehna's handmade food. Anant says he will bring Jamuna but Radhika comes there with Jamuna. Gehna smiles seeing Jamuna and serves food to her enthusiastically. Kanak thanks Radhika saying because of her today full family eating together after long time and tells her to join them for dinner. Radhika sits beside Anant. Anant tells Gehna to join them saying everyone can serve by themselves.
Kanak was about to stand and Gehna notices that so she lies saying she ate already and goes to bring sweet dish. Paresh who noticed everything informs about it to Praful and praises Gehna. Gehna was about to serve halwa to Anant but Radhika stops her saying he doesn't like that. Paresh says he told Gehna to make halwa and asks Anant to taste it for him. Anant eats it and says it's delicious.
Tiya asks Gehna about preparations for the upcoming Saraswati puja. Gehna says she will leave for venue soon to start the preparations. Jamuna indirectly says there should not be any mistake from Gehna's side. Hema gives few things to Sagar so he can spoil Gehna's preparations and warns him to not do any mistake like earlier. He says this time there won't be any mistake from his side.
Gehna was leaving for outhouse but Anant stops her saying he has something to talk to her. He asks does she has any problem if Radhika stays in this house. He says Jamuna gave permission to Radhika that's why he could not able to say anything. He gives smart phone to her saying he brought it for her. She gets happy. He explains the features to her. He says she got chance to prove everyone that she is not less than anyone and wishes her to do well. Hema tells Gehna to bring tea to everyone who came to do preparations. She sends other ladies saying Gehna will do everything alone. Sagar gets ready to execute his plan.
Episode ends.
Precap – Gehna trapped in fire and Anant arrives there.
Click to read: