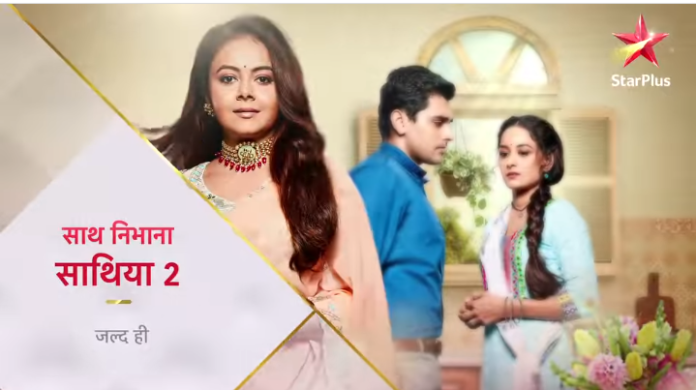 Saath Nibhaana Saathiya 2 1st December 2020 Written Update on TellyExpress.com
Episode begins with Radhika slips because of the oil Kanak poured on the floor, she ends up hanging there. Anant , Gehna runs towards her. Radhika shouts for help. Anant tells her to hold his hand. She says her hand slipping and could not hold it. Gehna tells her to hold his hand.
He tells her to try to hold his hand. Kanak thinks she planned this for Gehna but Radhika trapped unnecessarily and gets worried saying now everyone will get to know and wonders what to do to escape from this mess. Anant was about to go to Radhika but she stop him saying it's risky and tries to hold his hand. He goes to bring rope. Gehna tells her to keep holding because Anant will bring rope soon to save her and tells her to not lose hope. She ties her duppata's one end to the rail and throws the other end to Radhika and tells her to hold that.
Radhika says she can't hold that. Gehna tells her to try at least. Radhika holds it somehow. Anant takes rope from store room and runs towards terrace. Gehna says she will come to Radhika to save her. Radhika tells her to not do like that. But Gehna refuses to listen her and puts her life in risk to save her. Anant shocks seeing what happened and drags Radhika first.Kanak gets happy thinking Gehna also fell down with Radhika.
Other family members comes there and shocks. Anant saves Radhika and she tells him to help Gehna. Gehna was about to fall but Anant holds her hand and Radhika holds her other hand and they drags her together. Jamuna,Praful gets relieved. Gehna and Radhika asks about each other. Anant unties Gehna's duppata from railing and gives it to her.
Radhika hugs Anant. Praful praises Gehna saying she is such a selfless person. Jamuna asks how it happened to Radhika. Before Radhika says anything, Kanak interferes and changes the topic. Radhika thanks Gehna for saving her life. Anant says he can't even tell that what she did for him today. Gehna says it's nothing in front of what they did for her. Tiya brings water for them. Hiral's husband says if Gehna's groom and his family witnessed this then they would have impressed with Gehna for sure.
Hiral stares at him angrily. Radhika was about to say how she slipped but Kanak doesn't let her do that and gives the water to her. Radhika notices the wound on Gehna's hand. Gehna says it's nothing serious so she should not worry about it. Radhika takes her from there to treat her wound. Kanak wonders Sagar did her work or not and calls him to know about it. She tells him to not leave from there until Groom's family comes and smriks.
Radhika says Gehna doesn't take care of her at all. Gehna says it's just a small wound. Anant asks how she is knows and as far as he knows she is not any Doctor.
He tells Radhika to clean Gehna's wound first. Gehna thinks Radhika, Anant looking good together. Hema instigates Jamuna against Radhika and says she can't adjust in this family and will settle in US after marrying Anant. Praful tells Jamuna to not take Hema's words seriously. She says she really likes Radhika. Radhika treats Gehna's wound and says in future she will return her favor. Anant tells Gehna to get ready. Radhika says she will help her to get ready.
Episode ends.
Precap – Groom's family talks ill about Gehna's character.
Click to read: