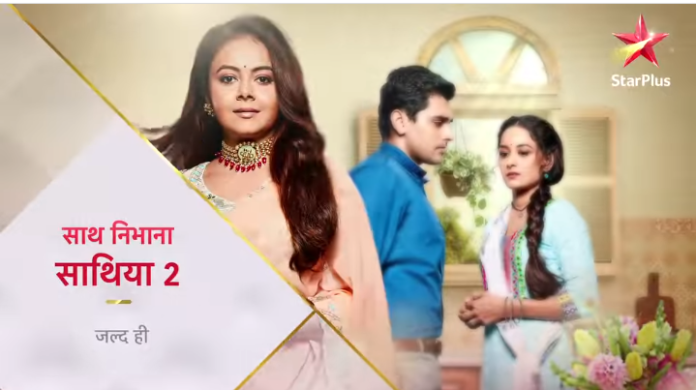 Saath Nibhaana Saathiya 2 27th January 2021 Written Update on TellyExpress.com
Episode begins with Paresh, Tiya and kids cheers for Gehna. Paresh says seems like Jamuna is so happy because her daughter in law praised by everyone in pandal and says he feels today they should make Gehna's favourite jalebi to celebrate. Jamuna smiles and says she will make it. Gehna says she will accompany Jamuna to help her.
Kanak stops her saying she needs rest now because she already did enough work so she, Hema and Radhika will help Jamuna. Hema says she is hungry and who will make food now. Gehna says she prepared food morning itself and so she will heat them now. Kanak says she will do that and tells Gehna to take rest. Pankaj wonders what happened to Kanak suddenly.
Jamuna recalls how Gehna saved Anant and says today Gehna saved her son's life. Gehna says she can even die for this family and takes blessings from her. Gehna asks Tiya to help her in dance practice because she can't dance and gets worried. Tiya says she will teach her so Gehna need not to worry and teaches her. Anant sees them and gives haldi milk to Gehna.
Tiya says Gehna is strong enough to take care of herself and tells him to go from there saying they has to continue their dance practice. He asks about his clothes. Gehna says it's in the cupboard. Tiya says if he search then he will get it and teases Gehna. Kids comes there and says they wants to watch. Tiya was about to send them out of the room but Gehna stops her.
Kanak tells Jamuna to take rest saying she will make jalebi. Jamuna asks what is she doing in kitchen instead of practicing for dance competition. Kanak says Gehna already won many competitions so she may won this also and everyone is happy with her win. Jamuna says no one can dance better than her and she gets happy seeing her dance and she is excited to witness her dance performance. Kanak sends Jamuna from kitchen saying she will make remaining jalebi. Sagar comes there and gives something to Kanak. Radhika prepares lassi for everyone. Kanak mixes bhang in Gehna's lassi.
While eating Paresh asks about Gehna. Tiya says she is busy with her dance practice and was about to go call her. Kanak stops her and goes to bring Gehna. Paresh and Anant notices her strange behaviour. Kanak tells Gehna to eat with everyone. Everyone shocks hearing her. Kanak says Gehna won her heart too today and makes her sit. Gehna gets emotional.
Radhika serves lassi to everyone. Gehna says she will drink lassi later because few minutes back only she drank haldi milk. Later, Kanak wishes Gehna for dance competition. Gehna drinks the lassi and Kanak smirks seeing that. Kanak hugs Gehna and Gehna gets emotional. Kanak thinks now Gehna will face insult.
Episode ends.
Precap – Kanak plays different song for Gehna. Gehna starts to dance on that song.
Click to read: