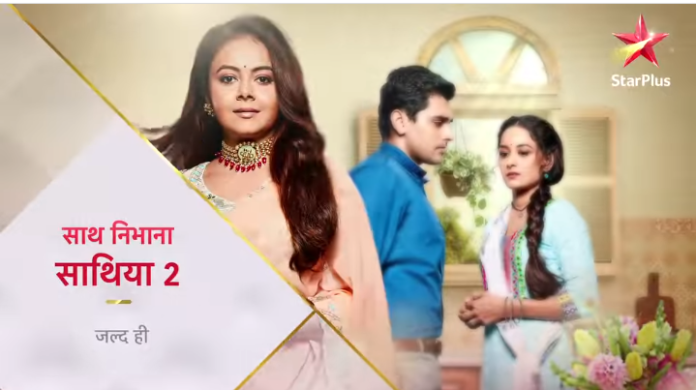 Saath Nibhaana Saathiya 2 3rd December 2020 Written Update on TellyExpress.com
Episode begins with Praful defends Gehna saying they misunderstood her and she is really good girl. Groom says he will say like that only after all, he wants to get rid of her. Anant says if they doesn't want to have this relation then let it be but they can't talk bad about her.
Groom's father says they would have left from bus stand itself but this family deceived them that's why they came here to confront and they will tell everyone that how shameless this Praful is. Gehna joins hands in front of them and says they can say whatever they wants to about her and pleads them to not say anything about Praful. Groom's father says they doesn't want to have any relation with servant and leaves from there. Praful tries to stop them but they ignores him. Sagar enjoys everything and says here only everyone insulted him and today he got his revenge but it's just a beginning .
Praful shatters and was about to collapse but Anant runs towards him and catches him. Gehna runs towards Praful and falls on his feet and apologize to him saying because of her, he had to listen so much from others. He makes her stand and says they didn't insulted him but they insulted her and asks her to forgive him. She says she doesn't care about her happiness, what matters is his happiness and says she doesn't want to marry. Praful moves towards his room without saying anything.
Anant says it's his mistake that he could not find good alliance for her and there is no mistake of her in this so she should not blame herself for anything. Gehna says it's not anyone's mistake but it's just that her destiny is like this. Jamuna says her destiny is really good and tells her to not forget what Guruji told about her future and says she will live as queen. While moving Gehna was about to fall but Anant holds her hand and they looks at each other painfully. Radhika, Tiya comes for Gehna's support and takes her with them.
Radhika tells Gehna that it's good that she is not going to live with those kind of people. Praful tells Anant that they made Gehna agree for the marriage, she was not ready for it but what happened with her is intolerable. Anant tells him to not worry and says this time they will find good match for her.Kanak says nowadays finding alliance through online is not safe and Anant also aware of this so they needs to find groom by themselves. She says she knows one family they are related to her family and the guy is civil engineer so she thinks he will be good for Gehna.
Praful says whenever they faces problem Kanak comes with the solution. Later Sanjay asks about whom Kanak talking because he never heard about that Groom from her. Hiral says just now one alliance broke but Kanak already ready with another alliance. Hema says if Kanak said then there must be some reason.Kanak says first they has to throw Gehna out of this house otherwise she will snatch all of their shares of money from Praful and then they has to throw Radhika and Anant out of the house.
Anant tells Radhika that Gehna's father saved Praful's life and his father also treating her like his own daughter only but not everyone from this family thinks like him. He suspects Kanak's intention. Kanak says groom lives in abroad and he hardly comes to India so Gehna has to live with her mother in law who is living in village. Anant tells Gehna to forget the past. Kanak's aunt and her son comes to see Gehna. She tells Gehna to walk. Gehna hesitates first then starts to walk but Anant stops her.
Episode ends.
Precap – Anant says that Gehna won't marry Kanak's aunt son.
Click to read: